Scholarship by UNM Law School Dean Mathewson passes test of time
February 1, 2016 - Tamara Williams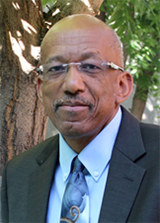 An article written by Alfred Dennis Mathewson, Dean of the University of New Mexico School of Law, is listed as one of the ten most cited articles in the 25-year history of the Marquette Sports Law Review, the foremost national bi-annual scholarly review on sports law topics.
Published in 1996, dedicated to his sister and inspired by his daughters, Mathewson's article, Black Women, Gender Equity and the Function at the Junction examines Title IX of the Education Amendments of 1972 to the Civil Rights Act of 1964 and the imbalance in opportunities in sports for African American women at the collegiate level. 
His article is one of the first, if not the first, law review articles to analyze the intersection of race and gender in the sports setting.  Rather than use the term "intersectionality" in the article's title, Mathewson drew upon a 1960's Motown Records song by Shorty Long called "Function at the Junction."
Mathewson's article is number three on the Top Ten list in the law review. It has been cited in numerous law review articles, books, and papers and discussed in law school and undergraduate college classrooms.  Mathewson has been invited to speak at various law schools and conferences about gender inequality in sports and has written three follow-up articles on Title IX.
"Scholarship is an important part of the mission of the UNM School of Law, paving the way for changes in law and public policy in the quest for justice," says Mathewson. "I am thrilled that my article has led to the consideration of race and gender when addressing gender inequality at all levels of sports."