2016 Discover Law opens doors to legal professions
March 18, 2016 - Tamara Williams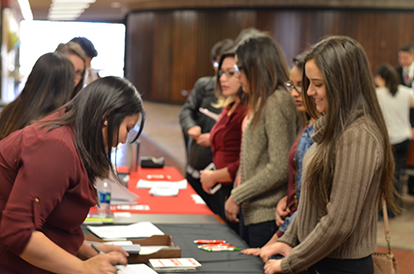 100 high school students attended Discover Law at the UNM Law School on February 6, 2016.
Diverse perspectives are needed in the legal profession, regardless of one's background, ethnicity, political identity, sexuality or gender.
That was the message that high school students, their parents and teachers learned at "Discovering Diversity in the Law," a free event held at the UNM Law School on Saturday, February 6.
This was the second year in a row for Discover Law and the number of high school students jumped from 60 last year to 100 this year.
Co-organizer Christine Jordan ('16) says that the increase in attendance was due to the increased involvement of law school students, student organizations, and law school alumni.
First year law students Jessica Perez and Andre Archuleta assisted with promoting the event to high schools and oversaw student panels to ensure that things ran smoothly.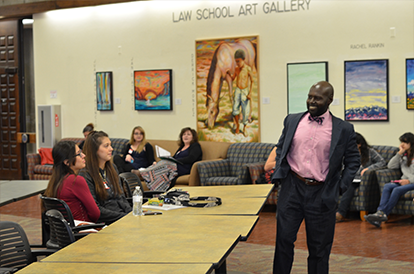 Admissions Officer Anthony Jenkins talked about getting into law school, scholarships and other opportunities.
"DiscoverLaw provides an opportunity for diverse students to learn about legal fields," says Archuleta. Perez agrees, adding, "It's really important that students, whether future law students or not, have this sort of experience and are able to see their own potential in the eyes of our community's professionals and students."
UNM Law School alumni generously gave of their time and helped make the event a success.  In one room, Brian Colón, Civil Attorney at Robles, Rael & Anaya, PC, Michelle Garcia, Appellate Prosecutor for the Second Judicial District of New Mexico, and Judge Angela J.  Jewell, Retired District Court Judge for the Second Judicial District of New Mexico shared their perspectives on the legal field.
In another room, Justice Cheryl Fairbanks, Justice for the Inter-tribal court of Appeals for Nevada and UNMSOL Professor;  Shammara Henderson, Assistant U.S. Attorney, U.S. Department of Justice; and Jason Rael, Managing Attorney of the Juvenile Division, Law Office of the Public Defender provided their perspectives.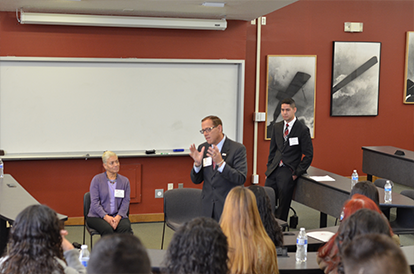 Civil attorney Brian Colón (speaking) and Judge Angela Jewell (left) shared advice to the students.
After lunch, participants heard from law school students as well as parents of law school students.
The day ended with a certificate ceremony.  "The students seemed pleased with the presentations and many of them had very good questions for the professional panel, our student panel, and the student volunteers who were around to answer questions around lunchtime," says Perez.
Jordan says that the Discover Law team will continue to provide these programs to educate high school students from all backgrounds about the resources that will help them become the next generation of lawyers.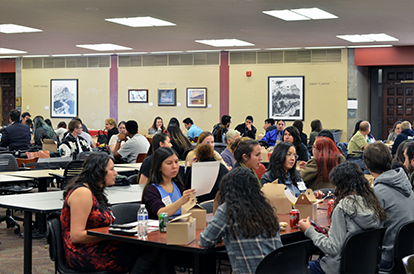 High school students interacted with legal professionals and law students during lunch in the forum.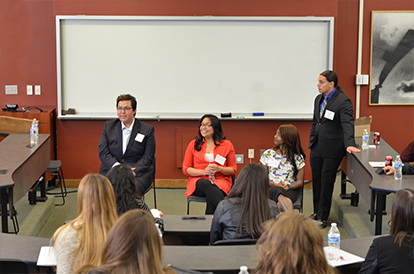 Law school students gave tips on getting into law school and how to deal with stresses during school.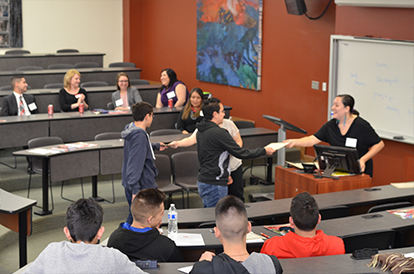 At the close of the event, high school students received certificates.