Recent grad Candelaria participates in political exchange program to Morocco and Tunisia
May 20, 2016 - Audrey Jaramillo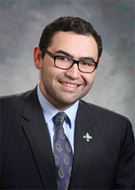 Just days after his commencement, Jacob Candelaria ('16), a state senator representing New Mexico's 26th district, is participating in a 12-day political exchange program to Morocco and Tunisia through the end of May.
Candelaria joins six other emerging political and policy leaders from across the U.S. to explore the governance, politics, and policy making in Morocco and Tunisia.
During their trip, the delegation will participate in a series of meetings with local business and political leaders, including members of parliament and the Royal Cabinet of Morocco.
Candelaria says, "The skills you develop during law school—critical thinking, effective communication, and the ability to interact with a diverse group of people—are invaluable, not only in the courtroom but in the fields of politics and international development as well."