UNM Law Professors Creel and Ritchie to speak at NM State Bar Annual Meeting
May 23, 2016 - Tamara Williams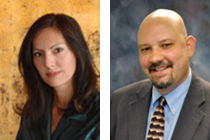 Professor Barbara Creel, an expert in Indian Law, and Professor Alex Ritchie, an expert in oil and gas law, have been invited to speak at the 2016 New Mexico State Bar Annual Meeting at the Buffalo Thunder Resort in Santa Fe on Saturday, August 20.
"We are grateful for the invitation and for the active participation of our faculty in the annual meeting of the New Mexico State Bar," says Dean Sergio Pareja. "We firmly believe that it is important for faculty members of the state's only law school to share their expertise with attorneys and judges in this state. The annual meeting provides a perfect opportunity to do this."
Creel's talk is titled, "Jurisdiction and Indian Law in the Supreme Court: A Conversation on the Recent Term."
She and Lynn H. Slade of the Native American Law Practice Group and Paul Spruhan of the Navajo Nation Department of Justice will discuss and debate Indian law opinions related to jurisdiction issued by the U.S. Supreme Court in its October 2015 term.
The cases discussed will include United States v. Bryant, Nebraska v. Parker, and Dollar General v. Mississippi Band of Choctaw Indians. An overview of the recent Supreme Court decisions will be discussed, followed by the effect of these decisions on federal, state and tribal jurisdiction matters. Attendees will learn how to conduct business on tribal lands in light of these decisions.
Ritchie's talk, "Environmental Regulation of the Oil and Gas Industry," will provide an overview of recent developments in environmental regulation of the oil and gas industry. Ritchie will explain the major regulatory regimes governing environmental regulation of the oil and gas industry, discuss challenges that environmental regulations impose on the industry and identify potential paths forward.