UNM Tax Law Faculty present at State Bar Tax Section
October 20, 2016 - Tamara Williams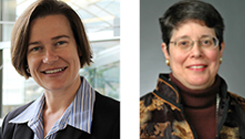 On Friday, September 23, Professors Mary Leto Pareja and Grace Allison presented to the New Mexico State Bar Tax Section on "Representing Low-Income Clients Before the IRS."
Pareja and Allison have taught in the law school's Clinical Law Programs' Business and Tax Clinic, of which the Low Income Taxpayer Clinic ("LITC") is a part.  Part of the purpose of their talk was to recruit tax attorneys for the LITC's Pro Bono Panel, formed in August of 2015.
The presentation included a discussion of the obvious and non-obvious types of problems that low income taxpayers face, focusing on child-based tax benefits as well as collection alternatives.  They also discussed how LITC is funded, the types of clients, the structure of the Clinic, and the Pro Bono Panel. 
Today, the Pro Bono Panel has six active members handling 11 cases.  Some Pro Bono attorneys take one case a year; others sign up for three or more.  Some are brand-new practitioners and welcome the opportunity to expand and hone their skills.  Others are old hands, who simply want to give back.  Nearly all comment on how grateful LITC clients are and how satisfying the volunteer experience can be. For more information about the Panel—or to volunteer—email Grace Allison@law.unm.edu.