UNM Law Team excels in national trial competition; Jonathan Dominguez wins Best Cross Examination Award
November 30, 2016 - Tamara Williams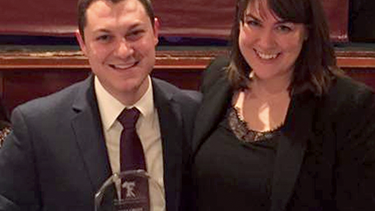 This year was the first time that the UNM Law School was invited to the Judge Paul Joseph Kelly, Jr. Invitational Trial Competition.
The UNM Law School team, Jon Dominguez and Tess Williams, Class of '17, made sure it won't be the last.
First they made the cut for semi-finalists, and then Dominguez won the Best Cross Examination award.
"After the particular trial for which Jon won this award, the judges were very impressed with and complimentary of Jon's ability," Williams remarked. "Each of his cross examinations were highly organized and effective. This award was extremely well-deserved!"
The award was a big surprise for Dominguez and not something he expected going into the competition.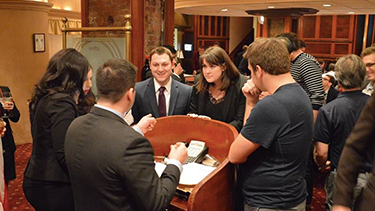 He praised adjunct professors Steve Scholl ('89) and Andy Scholl ('11) for the skills he learned. "The award is a testament to the preparation and skills that Steve and Andy Scholl instill in us when it comes to trial practice – being in the moment and listening to the witness, not just sticking to a script."
"It was an honor for the UNM Law School to be invited to the Judge Paul Kelly Invitational at Fordham," said Steve Scholl. "Jon and Tess worked really hard to prepare for the competition, and they made a great showing for UNMSOL in NYC!"
Scholl added that Judge Kelly sits on the 10th Circuit Court of Appeals and practiced for many years in Santa Fe with the Hinkle firm.
After the awards ceremony, several of the judges came up to them and asked where they were from. "When they found out it was the University of New Mexico, they were blown away," said Dominguez. "That was probably the highlight of the competition for me – letting East Coasters know that UNMSOL prepares its students to be tough advocates in the courtroom."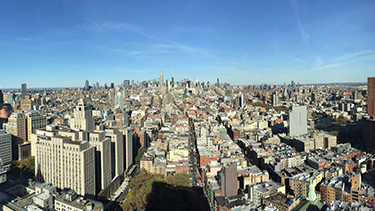 About the Kelly Competition
The Kelly Competition is hosted by Fordham University's law school. This year it was held in the Southern District of New York Courthouse in Manhattan from Saturday, November 12 to Sunday, November 13.
The Kelly Competition is unique in that it limits teams to two students, who must prepare for both sides of the case. "There is one catch – the student who delivers the opening statement for one side must deliver the closing argument for the other side, and vice versa," explained Dominguez. "This forced Tess and I to become comfortable with all aspects of a trial, instead of specializing in one piece over another."
"Though we did not advance to the finals, we were proud of what we had accomplished, and were proud to represent UNM Law in this competition," Williams said. "UNM had never before been invited to this competition, but after Jon and I competed we got many comments from those in charge of the competition about how they hoped UNM would come back next year. We hope that we have started a tradition of UNM Law sending a team to this annual competition."
Below, Dominguez and Williams share their thoughts on their preparation for the competition, how it compared to the regional competition in February, and some of the benefits of competing.
Williams: Jon and I practiced for about two months, three nights per week, and during the day on Saturdays. We practiced in the way we had learned to practice for the National Trial Competition last spring. (See "Students learn to control the courtroom from the pros.")
We tried the case against each other, switching back and forth from prosecution to defense each night. In this way we practiced openings, closings, witness direct and cross examinations, pretrial motions, entering evidence, objecting to evidence, and responding to objections.  We had other students sign up to be witnesses for us and, toward the end, Steve Scholl arranged for Judge Browning and Judge Molzen and Assistant US Attorney Sean Sullivan to come in and judge for us and give us feedback. 
I believe the competition was as tough as the National Trial Competition. It was a similar competition setup, except that we were competing against teams from all across the country, instead of just teams in our geographical region. The teams we competed against were of similar caliber to the National Trial Competition teams in our region. Preparing for this competition was harder, however, because Jon and I had to keep ourselves disciplined and try an entire case on our own each night. We didn't have the kind of structure that the Mock Trial team has in the Spring, with 6 team members and two coaches. Preparing for this case without a set schedule and other team members to bounce ideas off of was tougher. 
Dominguez: There were several benefits to this experience. First and foremost, it allowed Tess and I to better prepare for the National Trial Competition in the spring. Another benefit was that it helped establish some national recognition. (See his comment above about the highlight of the competition being showing that the UNM Law School prepares its students to be tough advocates in the courtroom.)
Williams: This experience gave Jon and me the chance to further refine our advocacy skills. Both of us want to be trial attorneys, and we jumped at the chance to practice the skills we've gotten through Evidence and Trial Practice (ETP) and being on UNM Law's Mock Trial Team. Part of our motivation to do this competition was to prepare for the upcoming National Trial Competition this Spring. But any chance to try a case and refine our advocacy skills will help us in the future to be the best advocates we can be. 
Steve Scholl was very encouraging when we told him we wanted to enter this competition. Though he is a very busy lawyer, he went with us as our coach and arranged for our travel and accommodations. He met with us during our preparations to answer questions and help us develop strategies.  He also arranged for two federal judges and an Assistant U.S. Attorney to come in and judge us toward the end of our preparations. After we competed in each round, he gave us little tips on how we could make the next round better. We used all the things Steve and Andy both taught us about how to be an effective advocate in preparing for this competition.