Intellectual Property Moot Court team represents UNM Law School well in regional competition
April 3, 2017 - Logan Glasenapp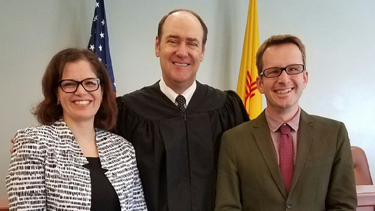 The UNM School of Law Intellectual Property Moot Court team recently competed in a regional competition in the AIPLA Giles Sutherland Rich Moot Court Competition.
Class of 2018 students Abbey Ibrahim and Chris Pommier argued a question of patent law and a breach of contract claim against the Berkeley team – and the Berkeley team ultimately won the competition. 
"The students did an outstanding job both in preparing and in competing, just missing the semifinals by two points," says Professor and Coach Marsha Baum. "Our team represented the law school very well in the regional competition in Palo Alto."
Baum says that the practice round judges were invaluable to the team's preparation.  "Judge Browning, Professors Occhialino and Bach, and IP practitioners/alums David Ferrance, Justin Muehlmeyer, Gina Constant, and Svitlana Anderson were incredibly generous with their time to guide the team," she adds.
"Regardless of placement in the competition, moot court is an invaluable experience that builds and expands on skills that UNM Law students practice second semester of our first year," observes Pommier. "The collegiality and support from the community of practicing attorneys and judges makes our legal community incredibly special."
Both Ibrahim and Pommier suggest taking part in a moot court competition during law school and recommend it highly for anyone considering appellate litigation.
They are also very grateful for their coach. "Thanks to our amazing coach, Professor Baum, for her support and valuable feedback throughout the whole process and for lining up the best panels to moot us," says Ibrahim.
About the competition
Ibrahim and Pommier spent two months drafting a brief in response to a problem created just for the competition. After spending many hours researching, drafting, and editing the brief, they then spent two nights a week throughout February and most of March running through practice after practice of their oral argument. The preparation was grueling at times, but served them well as they competed in Palo Alto.
The AIPLA Giles Sutherland Rich Moot Court Competition—named for one of the most distinguished jurists in the field of patent law—celebrated its 44th year in 2017.