Regents Professor Kevin K. Washburn reflects on connecting to a wider audience as post goes viral
May 31, 2017 - Tamara Williams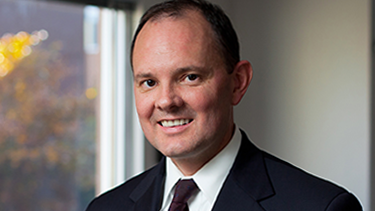 When Professor Kevin Washburn posted on LinkedIn about the major cuts in the Indian Affairs budget proposed by President Trump on May 23rd, he wrote with authority. Followers viewed, commented and shared his post in kind.
A citizen of the Chickasaw Nation of Oklahoma, Washburn served as Assistant Secretary for Indian Affairs at the Department of Interior from October 2012 through December 2015, where he oversaw a budget in excess of $2.8 billion.
The Indian Affairs budget cuts post has rapidly spread across social media, and by May 30th, had reached over 163,000 views.  The success of the post spawned an Op Ed by Washburn for Indian Country Today. It has also prompted him to reflect on the role of law scholars.
"Relevance is the Holy Grail for a scholar," says Washburn. "That is what is so gratifying about a lot of people reading one's work. Should law faculty write law review articles that will be read by 10-15 people?  Or should we be writing on important, timely issues to a broader audience?"
Questioning the relevance of academic scholarship isn't new. In 1936, Professor Fred Rodell of the Yale Law School wrote, "The average law review writer is peculiarly able to say nothing with an air of great importance. When I used to read law reviews, I used constantly to be reminded of an elephant trying to swat a fly."
The reference above is in an article by Judge Harry T. Edwards of the U.S. Court of Appeals for the D.C. Circuit published in the Virginia Law Review, who writes, "The most important point that Professor Rodell made is that, too often, law reviews and the articles they contain are irrelevant to law's purpose of serving society. Intensely theoretical, philosophical, and empirical scholarship, which is very much in vogue in the legal academy these days, is rarely of interest or use to wide audiences."
Washburn's posts demonstrate the ways law professors can now have even broader impact. They also provide a useful outlet for him to share more widely what he's learned through his teaching, scholarship, and while serving in Washington.