New Mexico overhauls bail and pretrial detention system with recommendations from committee chaired by Professor Leo Romero
June 14, 2017 - Tamara Williams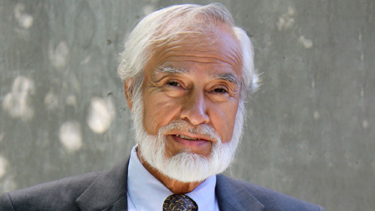 On Monday, the New Mexico Supreme Court took final steps to ensure that the state has a safe, fair and effective bail and pretrial detention system.
The reforms permit detention without bail of clearly dangerous defendants and ensure that non-dangerous low-risk defendants are not jailed while awaiting trial solely because they cannot buy a bail bond.
The Court's procedural rules were based on recommendations from the Ad Hoc Pretrial Release Committee chaired by University of New Mexico School of Law Professor Leo Romero.
For two years, Romero guided the 18-member committee in shaping recommendations for pretrial detention and release in criminal proceedings for all state courts in New Mexico.
Sally A. Paez ('09) and Stephen A. Vigil ('07), senior counsel for the New Mexico Supreme Court, provided support for the committee.
"Professor Romero and his staff, Sally and Stephen, did an excellent job of shepherding us through the process," said Fourth Judicial District Judge Gerald E. Baca ('87).
"The committee, which included judges, prosecutors, defense attorneys, detention officials and bail bondsmen, recommended procedural rules that protect the community from dangerous defendants and release defendants who pose little risk of flight or danger to the community," said Romero.
In a statement on Monday, Chief Justice Charles Daniels said, "The Justices of our Court agreed with our committee's view that the old system of basing pretrial release and detention decisions on who could come up with the money to buy his or her way out of jail, instead of on evidence of individual risk of dangerousness or flight, served neither community safety nor constitutional rights of accused citizens. New Mexico, like a growing number of states around the country, has now taken significant steps to address important reforms toward safer and fairer administration of pretrial justice."
The new procedures go into effect July 1 for new and pending cases.
Media reports on bail reforms in New Mexico and throughout the U.S. include:
http://www.kob.com/albuquerque-news/new-mexico-moves-forward-with-bail-reforms/4504465/
http://www.ladailypost.com/content/new-mexico-supreme-court-issues-new-procedural-rules-governing-pretrial-detention-and
https://www.bloomberg.com/view/articles/2017-02-16/bail-reform-is-overdue-but-finally-here
http://www.huffingtonpost.com/entry/new-mexico-amendment-1_us_5817a3cfe4b0990edc32ed05