Gift of $2.5 Million Establishes the Daniel A. Sisk Endowed Scholarship in Legal Ethics
January 31, 2018 - Hannah Farrington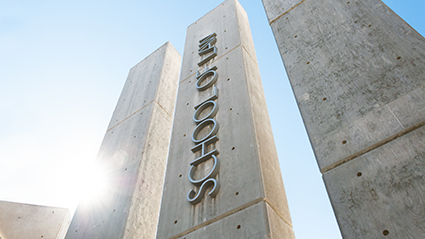 An endowment for the Daniel A. Sisk Scholarship in Legal Ethics was recently established at the UNM School of Law. The memorial endowment, established by a donor who prefers to remain anonymous with an outright gift of $2,500,000, will ultimately provide three full cost of attendance scholarships concurrently at the law school.  In conjunction with the gift, it is anticipated that a classroom at the law school will also be named for Mr. Sisk, a dedicated New Mexican attorney known for his legal scholarship, strong sense of public service and integrity who passed away in August of 2017.
"This memorial scholarship will have an immediate impact at the law school. This fall, the first scholarship recipient will receive financial aid equivalent to the full cost of attendance for all three years of their study. This scholarship has been established to honor Mr. Sisk's legacy, and to provide life-changing support for New Mexico residents pursuing greater access to a legal education. We are deeply grateful to have the law school be entrusted with this gift," shared Co-Deans Sergio Pareja and Alfred Mathewson.
The scholarship is designed to assist New Mexico residents who have demonstrated meritorious academic achievement, coupled with extra-curricular achievements, service, or other endeavors which demonstrate character, ethical behavior, integrity similar to, and exemplified in, the life and work of Daniel A. Sisk. It is strongly desired that applicants have an interest and willingness to practice law in the state of New Mexico.
Those who had the privilege of knowing Daniel Sisk remember him as a kind person always ready to help others and as a man who was never heard to utter an unkind word about anyone. Daniel Sisk treated everyone he met with openness, respect and dignity -- and he loved New Mexico, its peoples, cultures and potential.
Daniel A. Sisk
A third generation New Mexican, Daniel Arthur Sisk was born in Albuquerque in 1927 to Myrl Hope Sisk and Arthur Henry Sisk. Dan enlisted in the United States Navy in 1945 when he graduated from high school at New Mexico Military Institute and served in the western Pacific and China. He attended the University of New Mexico from 1946 to 1948 and graduated from Stanford University in 1950, whereupon he received his commission in the United States Marine Corps. After two years at Stanford Law School, Daniel was called to active duty in the Korean War; where he served as a 1st Lt. and was discharged as a Captain. He completed law school in 1954 and married Katharine Banning, the love of his life, in November of that year. Dan and Kay were married for over 62 years. They moved back to Albuquerque in 1954 and Dan joined the Modrall Sperling law firm, becoming the sixth lawyer in the firm, which now has more than 60 attorneys. Daniel was a partner in the firm for over 40 years. He was appointed by Governor Cargo to the New Mexico Supreme Court in 1968. Later, he served as Chairman of the Board of Sunwest Financial Services for 15 years.
Daniel Sisk was a lifelong public servant whose volunteer roles included: President of the Legal Aid Society of Albuquerque (1960-1961), Board of Directors of the Albuquerque Bar Association (1962-1963) and the New Mexico School of Banking Foundation (1981-1985), Trustee of Sandia School (1968-1972), Albuquerque Academy (1971-1973), and the Atchison, Topeka & Santa Fe Railroad Memorial Hospitals (1966-1982). He delivered meals for Meals On Wheels for 20 years. A member of First Presbyterian Church for over 75 years, Dan served as an elder and deacon. To his many friends and professional colleagues, he was known as a caring and approachable man of intellect and integrity.