Second-Year Student Pins Big Opportunity with UFC Legal Department
March 15, 2018 - Derek Sanchez ('19)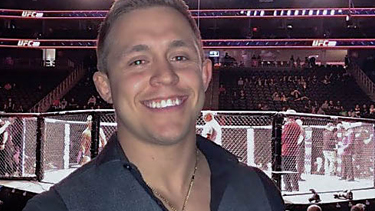 LAS VEGAS – Derek Garcia, a second-year law student at UNM School of Law, achieved his dreams of working in the area of sports and entertainment law. Garcia recently accepted an internship position at the Ultimate Fighting Championship (UFC) legal department in Las Vegas, Nevada on January 16, 2018.
The former Olympic hopeful and world-class collegiate wrestler has earned numerous national wrestling titles. While these are highly respected titles, his most significant goal has always been to take the fight to a different arena. An area he believed he could make a real impact.
"I did not come to UNM School of Law to simply become an attorney. I had a greater desire to pursue my dreams of working in sports, making an everlasting mark for good, being the best child of God, and to be a strong advocate," Garcia explained. "Part of pursuing your dreams is to never settle. I have big aspirations and goals in life, and I am not going to fall into the trap of settling. I want a job where I can wake up in the morning and be excited for the day. That's what sports and entertainment law does for me."
Garcia is one of many UNM School of Law students who thrive in the face of competition. Recently, the UNM School of Law's Mock Trial team litigated their way to the final round of the regional competition, and the Fredrick Douglass Moot Court team will compete at nationals after taking first place in the region. However, Garcia attributes his success to more than his spirited drive and determination—a common characteristic among UNM School of Law students.
"Honestly, I do not feel I did anything special. I was simply blessed by the grace of God. God's will has been my biggest contributor, but this coupled with the fact that UNM School of Law is a rapidly rising law school that I feel really stands out in the application process also contributed," Garcia stated. "I am sure these types of employers do not see applicants from our area frequently, but I think this is the stepping-out-of-the comfort-zone and willingness to grow professionally that me and many other UNM law students exhibit which separates us from the competition."
The UNM School of Law students are some of the best legal fighters in the arena, and these legal fighters pin big opportunities.