Facilitation: A Skill for Authentic Community Engagement
March 27, 2019 - Sal Guardiola II
"We presuppose that the people sitting in the room are experts in their own experience." – Everette W. Hill, MA, Principal and Managing Director of Social Innovation Strategies Group, LLC.
On March 7, the UNM School of Law welcomed Everette W. Hill as guest speaker for the Social Justice Lunchbox Series, part of the Child & Family Justice Initiative ("CFJI").  Relying on his 25 years of experience, Mr. Hill provided insight on using facilitation as a tool for authentic community engagement in the arena of social justice advocacy.  Throughout his presentation, Mr. Hill modeled the skills he described by engaging his audience of UNM Law students, faculty, and staff through the use of questions, a flipchart, the classroom blackboard, and more. 
One of the first questions Mr. Hill posed was, "For you, what is facilitation?"  The members of the UNM Law community who were present wrote their answers on sticky notes that Mr. Hill collected.  Some of the especially relevant (and humorous) answers included:
Guide, not steer;
Nobody dominates, and everyone participates; and
Conflict lubrication—getting the machinery working again.
Each of these answers shed light on components that make for authentic and effective community engagement.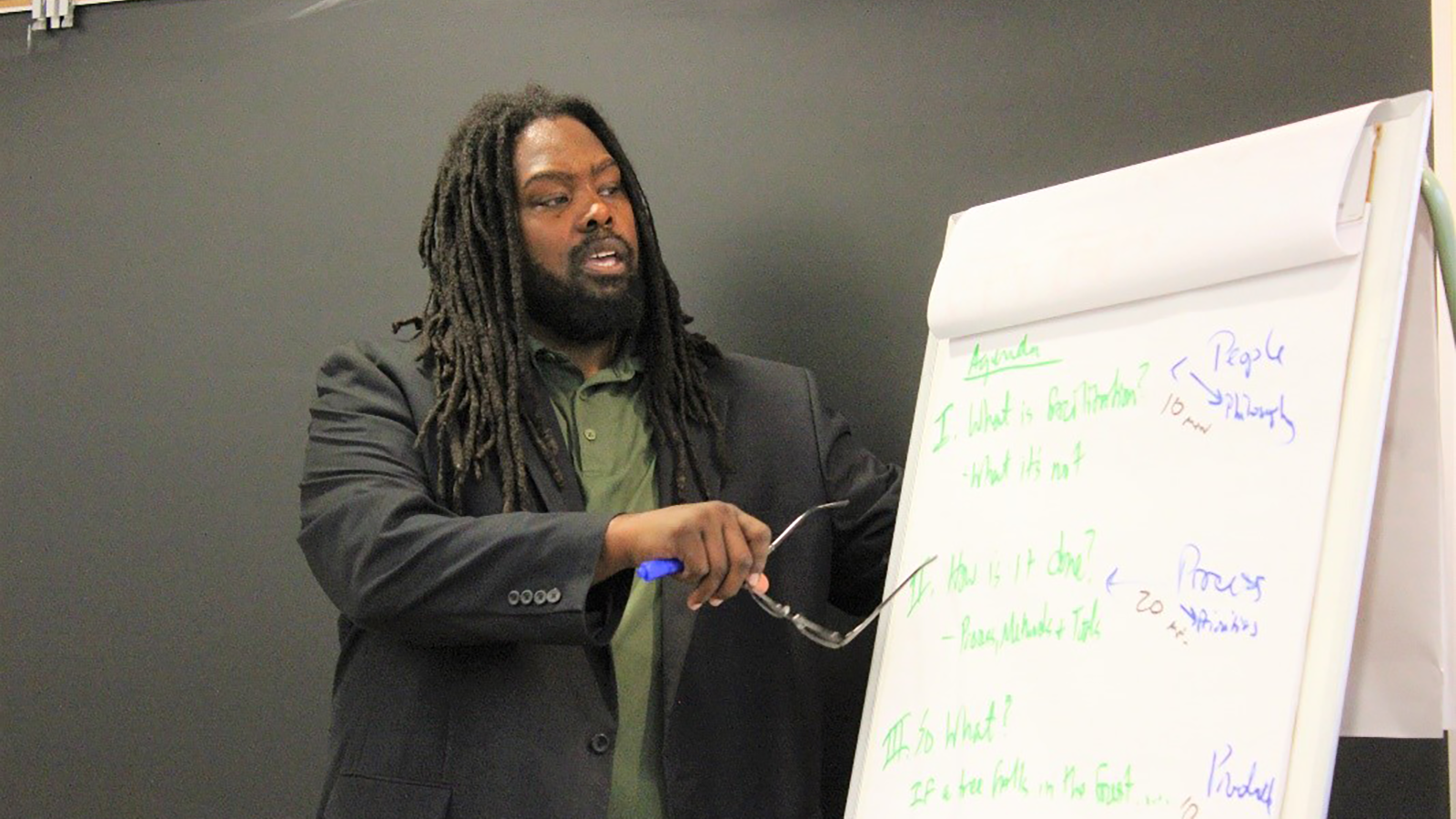 Tailoring his presentation to the community before him, Mr. Hill emphasized that while there are various stylistic approaches to facilitation, "the social justice lens lends itself to asset oriented and participatory methodologies."  Asset orientation recognizes that people are experts in their own experience, and, therefore, the role of the facilitator is to create a safe space for community members to share the expertise and knowledge they possess regarding their community.
Further, asset oriented facilitation recognizes that no matter the community's situation, there are good things happening in the community, and those good things will become the foundation for moving forward as a community. As one might expect, facilitators using an approach of asset orientation embrace being humble and taking on a learning posture.  Facilitators support, rather than control, the conversation because they recognize that they are guests in the community's space.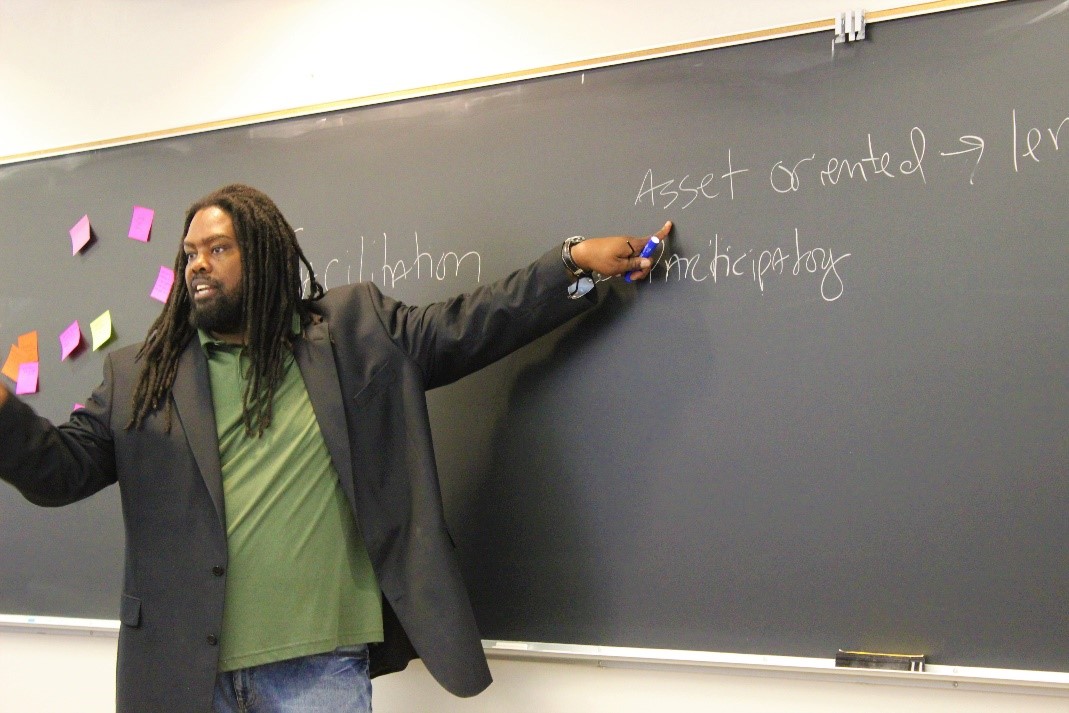 Engaging communities is a vital component of the CFJI.  The CFJI aims to prepare UNM Law students to use transformative advocacy to pursue racial equity and well-being for children and families in New Mexico.  The Social Justice Lunchbox Series provides training for students, as well as the public at large, that may not otherwise be covered in the UNM Law curriculum.  The Law School is grateful to Mr. Hill for giving his time to provide an overview of and model for facilitation that engages communities authentically.
The final Social Justice Lunchbox of the academic year will be next week on Thursday, April 4, 2019 at noon in room 3416 at the UNM School of Law, presented by Professor Anna Nelson from New Mexico State University and Cristen Conley, Senior Attorney from University of New Mexico School of Law, on Critical Trauma Theory: an emerging framework for culturally-humble, socially just lawyering.
If you would like to learn more about the Child & Family Justice Initiative at the UNM School of Law, contact Sal Guardiola II at guardiola@law.unm.edu or 505-277-9065.