UNM Law Student Selected for HNBA IP Law Institute
May 15, 2019 - Hannah Farrington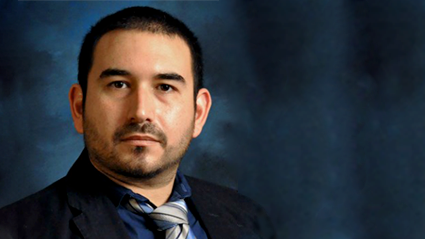 Third-year law student Marco Santamaria has been selected to join the 2019 class of the Hispanic National Bar Association's Intellectual Property Law Institute (HNBA/IPLI).  Impressed by his application materials, the committee wrote, "We appreciate the time and effort you took to apply to the program. The competition was overwhelming, and you should be proud of this accomplishment." The UNM School of Law community is tremendously proud of Marco's accomplishment, as well.
According to the HNBA website, up to twenty-five Latino law students from law schools across the country are chosen to participate as scholars in the Intellectual Property Law Institute, with all expenses covered. Candidates are selected to participate in this immersive summer program through a highly competitive process. The Institute provides opportunities for Latino students interested in intellectual property law (IP), including patents, copyrights, trade secrets and trademarks.
The IP immersion program takes place in Washington, D.C. in June and will provide the selected students with substantive instruction, the opportunity to observe first-hand U.S. IP institutions at work, and the chance to meet leading members of the IP legal community. Participants will have access to housing at George Washington University and to venues and engagements such as special speakers at the Federal Trade Commission, the Court of Appeals for the Federal Circuit, the International Trade Commission, the United States Patent and Trademark Office, and the Rayburn House Office Building.
The HNBA/IPLI helps to promote diversity in the area of intellectual property law. Hispanics, currently represent close to 20 percent of the U.S. population, but make up less than two percent of intellectual property lawyers. IPLI creates a platform for educating future IP lawyers, fostering support for them, and engaging alumni in assisting with the direction of careers.
To learn more about HNBA/IPLI click here. To watch a short video about IPLI's impact on law students and attorneys in their own words click here.