Second Year UNM Law Student Rewarded for Excellence by Rocky Mountain Mineral Law Foundation
May 9, 2019 - Professor Reed Benson, Hannah Farrington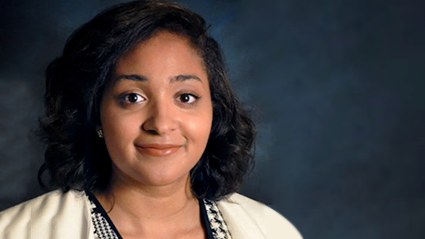 Second year law student Morgan Johnson has been awarded not one, but two, scholarships from the Rocky Mountain Mineral Law Foundation (RMMLF).  These scholarships are quite competitive, with about 100 students from many different schools seeking about 30 awards each year.  These prestigious awards generally range from about $3000 to $10000 each.
"UNM Law has an excellent natural resources and environmental law program, and many of their students have become important contributors to the natural resources and environmental law community," said Alex Ritchie, Executive Director of RMMLF. "We are proud that since 1991 we have been able to award $150,000 in scholarships to deserving UNM Law students, such as Morgan, who are interested in pursuing a career in natural resources law."
The Frances Hartogh Diversity Outreach Scholarship, brand-new this year and named after a longtime Foundation staff person who will be retiring this year, is specifically geared toward supporting people from under-represented groups who are interested in natural resources law, and also committed to helping serve the needs of such groups.  Morgan is one of the very first students to receive this new award that focuses on opportunity and diversity in the natural resources sector. Morgan also received a RMMLF Scholarship.
"Morgan has a deep interest in natural resources and environmental justice, so she is a very deserving recipient of this new award," said UNM law professor Reed Benson.  "It's great news for UNM as well, because this law school both values diversity and emphasizes natural resources law."
For more information on the Rocky Mountain Mineral Law Foundation (RMMLF), please click here. For more information about RMMLF opportunities for students visit their Professors and Students page here.