Exhibit Closing Event! Join Us!
September 6, 2019 - Hannah Farrington
To RSVP for the exhibit's closing reception please call Cheryl Burbank at 505-277-0609.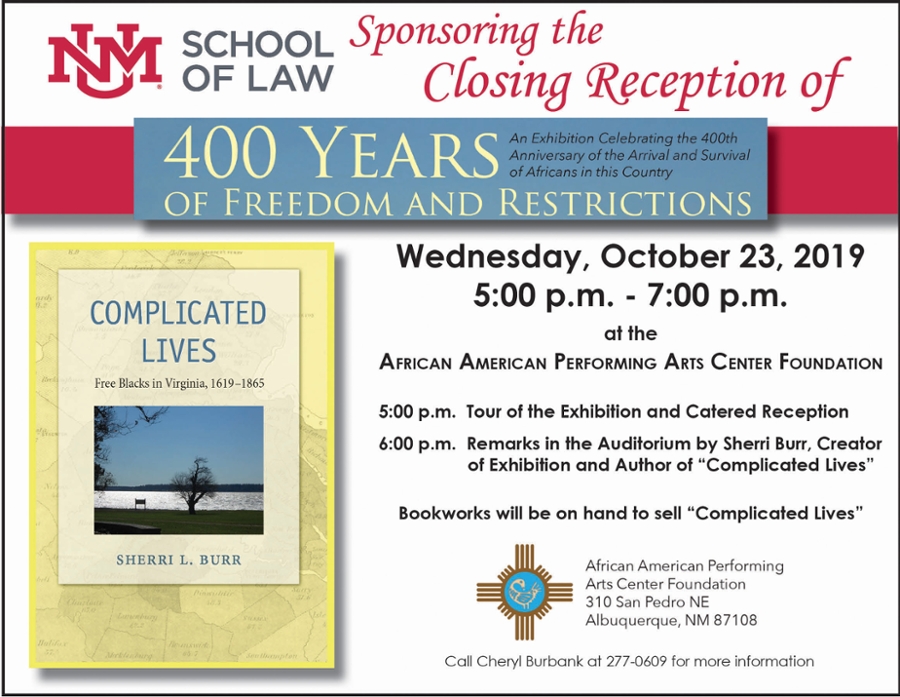 ---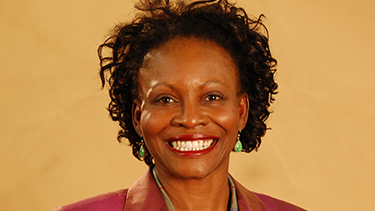 Burr, new book, and art installation garnered national and international attention. Emeritus Professor of Law Sherri Burr's exhibition, "400 Years of Freedom, Restrictions, and Survival", commemorating the first arrival of Africans in August 1619 and challenging traditional notions of how slavery developed in this country, continues through October 26th at the African American Performing Arts Center in Albuquerque. The installation, and Burr's new book (Carolina Academic Press) Complicated Lives: Free Blacks in Virginia, 1619–1865, which redefines the history of slavery in the United States, have received widely ranging media coverage across the country, as well as, internationally.
Professor Burr's six-year research project, combined with DNA testing, has uncovered she is a descendant of Aaron Burr, one of the earliest vice presidents of the United States, and the opponent of Alexander Hamilton in their historically well-known duel. Her work has been recognized by the Aaron Burr Association, as her connection to Aaron Burr traces back to John Pierre Burr, of Philadelphia. John Pierre is the son of Vice President Burr and Mary Eugenie Emmons, a household servant. John Pierre was later actively involved with the efforts of the Underground Railroad. Last month, Philadelphia's Eden Cemetery added a new headstone honoring John Pierre Burr's accomplishments and officially recognizing him as the son of former Vice President Aaron Burr.
Professor Burr's work, conducted in archives, historical sites and societies, and libraries throughout the United States and in two foreign countries, will also inform an additional forthcoming book. Her completed works, however, continue to garner national and international attention and praise:
Washington Post: New Mexico black professor traces family roots to Aaron Burr
NPR All Things Considered: Barbershop: Reckoning With The History Of Slavery
CNN: Aaron Burr, the Vice President best known for shooting Alexander Hamilton, had a secret biracial family
The Guardian: Aaron Burr, vice-president who killed Hamilton, had children of color
India Abroad: America's Founding Father Aaron Burr's relationship with Indian woman from Calcutta comes to light
Washington Post: Aaron Burr — villain of 'Hamilton' — had a secret family of color, new research shows
Albuquerque Journal: Puzzle solved: UNM professor traces roots back to Aaron Burr
The UK Independent:Why has America taken so long to confront its dark history?
Burr says, "I have been stunned by this attention to my work. Usually I research a subject, write and publish the results, and maybe do a few promotional events. I never anticipated there would this be this kind of reaction to getting the paternity of John Pierre Burr and his dedication to eliminating slavery formally recognized."
To learn more about University of New Mexico School of Law Emeritus Professor of Law Sherri Burr click here. To read the book publisher's release click here. For more information about the "400 Years of Freedom, Restrictions, and Survival" exhibit, or the African American Performing Arts Center, please visit their website.