Federal Clerkships Give Grads a Different Look at the Law
June 29, 2020 - Kenn Rodriguez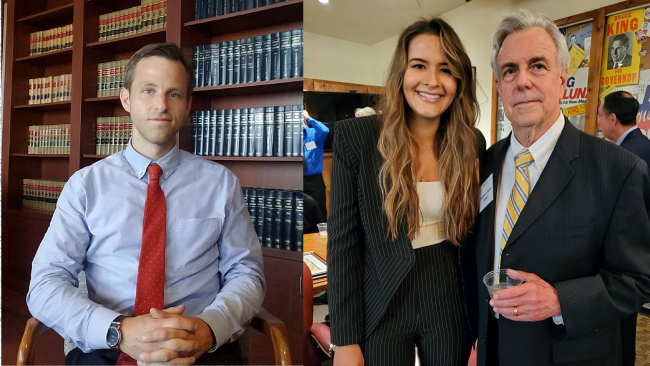 Alumni Alexandra Cervantes and Ben Osborn are among a select few graduates of the UNM School of Law to attain a clerkship with a federal judge. It's the kind of job that is among the most prestigious and competitive employment opportunities available to Law School graduates.
 Usually lasting one to two years, a judicial clerkship can give unparalleled access and knowledge about the judicial process to clerks who are also exposed to a wide array of legal issues in their time as clerks.
 That's certainly been the case for Osborn, a 2019 graduate of UNM Law, who is currently a law clerk to the Honorable James O. Browning, a U.S. District Judge for the District of New Mexico. Osborn, who has clerked for Judge Browning since September 2019, will leave in September of this year to become a clerk for the Honorable James Graves, U.S. Circuit Judge for the Fifth Circuit, based in Jackson, Mississippi.
"It was a mix of excitement and intimidation," said Osborn of getting the clerkship. "I was excited because I was ready to start doing real work, but I was definitely intimidated. Judge Browning has a reputation for demanding a lot of his law clerks."
Despite that, he said he's enjoyed the experience, which has given him the opportunity to work on all manner of cases and issues, both criminal and civil, in a "fast-paced" environment.
"There's always a long list of assignments waiting,' he said via email. "A district court clerkship also trains you in building a solid factual record. I've been exposed to issues and concepts of which I'd previously had little knowledge and, by doing so, I think I've really grown in my legal competency."
Osborn also said he really appreciated being able to see lawyers advocate in person and in writing, and said it was helpful to start his career "doing a form of public service." Working a clerkship allows law school graduates to start their legal career "working with an expert mentor," he said
"I think for many judges, working with and mentoring their clerks is a favorite part of being on the bench," Osborn said. "Judge Browning is no exception to that, and I've been very fortunate to start my career under the guidance of someone who's an expert in both the law and the New Mexico legal community."
Cervantes said she will begin her clerkship with the Honorable Joel M. Carson, a judge for the U.S. Court of Appeals for the Tenth Circuit, District of New Mexico, in August of this year and is currently studying for the New Mexico State Bar Exam. She said she expects "to learn from exceptional and talented people and build lifelong relationships with some of the best legal minds in the field." 
"I am also hopeful that this experience will expose to me to new areas of law, new ways of thinking, and new avenues by which we can improve our state," she said. "While I have not formally started working yet, I have worked with my judge and his staff a little bit and we have a fishing trip coming up where I hope to get to know everyone even better. They are simultaneously some of the smartest and most down to earth people. I am confident that I will learn so much from them–about the law and fishing."
As for advice for those who would like to follow in their footsteps, Cervantes and Osborn both had plenty to say. "I would recommend that students be completely desirous, that they say "yes" to everything in law school because even the bad experiences help inform what you want to do and what you don't" Cervantes said. "The best thing you can do, especially at UNM, is take advantage of the relationships with alumni, faculty, staff, and other students. Everyone is so eager to help and guide you."
"Start thinking about (clerking) early on in your law school career," Osborn said. "Find a professor who can mentor you on the application process and throughout your time in law school. Speak with people who've clerked, preferably for a judge to whom you wish to apply and get an understanding of what the clerkship experience is like."
Osborn also recommended that students serve on a law review or journal because "Writing a case note or comment is excellent training for a clerkship and many judges prefer applicants who have served on a journal." Cervantes also said that making contact with both faculty and other students was a good tact.
"Never be embarrassed to reach out, even if you don't know someone, because that person could quickly become a mentor and, even better, a friend," she said. "I have never reached out to someone that wasn't completely generous with their time and advice."