Church chosen for 2020 Rural Summer Legal Corps Fellowship
July 10, 2020 - Kenn Rodriguez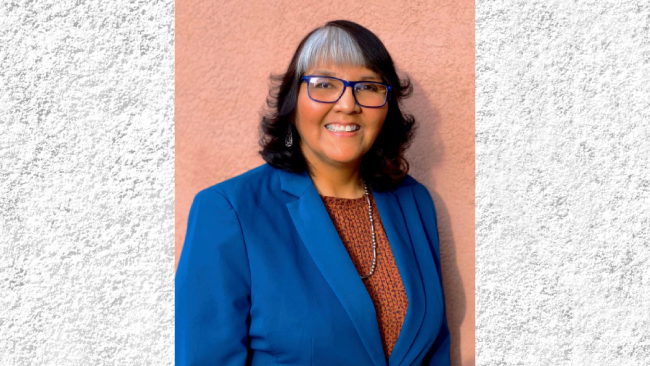 In May, UNM School of Law's Lora Morgan Church (Navajo), a rising 3L law student, was selected for the 2020 Rural Summer Legal Corps Fellowship through a partnership between the Legal Services Corporation (LSC) and Equal Justice Works, which work together to place RSLC Fellows to work at LSC-funded civil legal aid organizations in rural communities across the United States and its territories.

Selected from 446 applications, Lora is one of the 35 law students who will serve in the 2020 class of Rural Summer Legal Corps. She will be hosted by New Mexico Legal Aid and will work in NMLA's Low Income Taxpayer Clinic, where she will support her host organization in expanding its community presence in strategically selected Native American Nations by performing outreach, conducting client intakes, and providing referrals to NMLA's legal services.
"My efforts are to help develop and launch a taxpayers pilot project in the Pueblo of Laguna," said Lora. "Our goal is to reach 100 eligible Laguna tribal members to access personal income tax preparation services, submit claims for the Economic Impact Payments, and make referrals to access free civil legal services to low-income tribal members."
"Lora will have the opportunity to gain a deeper understanding of the unique legal issues that affect Native American communities through her work at New Mexico Legal Aid," said Aoife Delargy Lowe, director of law school engagement & advocacy at Equal Justice Works. "We are proud to support her efforts to protect the rights of members of Native American tribes in New Mexico."

Program participants, or "Student Fellows," spend eight to ten weeks during the summer exploring a career in civil legal aid, by providing direct legal services and building capacity at the organizations where they serve. Due to the coronavirus pandemic, Student Fellows will work remotely this year to support the efforts of their host organization.
"I am very grateful for this inaugural tax clinic opportunity to do grassroots cutting-edge work with an amazing NMLA team and the Pueblo of Laguna," said Lora. "Together, we are creating a tax-focused project designed on 'paper' to actual field implementation. Most of my career has been working in rural and tribal communities, and this fellowship fits nicely in my professional passion of work."
Lora, who said she intends to practice Elder Law, Indian Law, and other areas that meet the needs of tribes and rural and tribal residents, is currently the president of the Law School's Native American Law Students Association, vice-president of the Student Health Law Association, a Legal Research Assistant, and the law student liaison for the NM State Bar-Elder Law Section. 
The Rural Summer Legal Corps is a partnership between the Legal Services Corporation (LSC) and Equal Justice Works that supports 35 dedicated Student Fellows who spend their summer addressing pressing legal issues facing rural communities. Following the completion of 300 hours of service in the program, participants earn a $5,000 stipend.
Additional information about the program can be found at the Equal Justice Works website.