UNM alumnus Stuart Butzier appointed president of the Rocky Mountain Mineral Law Foundation
September 25, 2020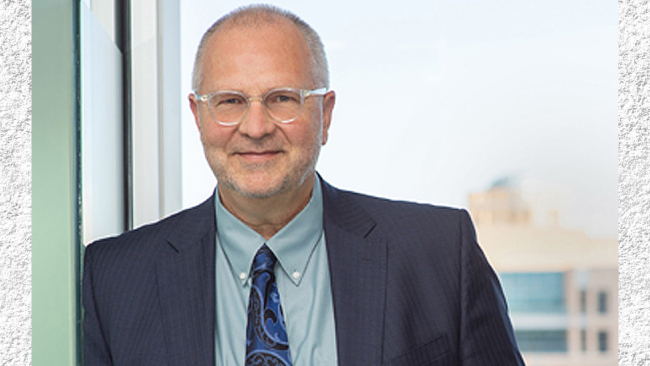 The Rocky Mountain Mineral Law Foundation announced the appointment of UNM alumnus Stuart Butzier (Class of 1989) as the President of the foundation in late July. Butzier will serve a one-year term as President, a multi-year term on the RMMLF's Board, and received a life-long term as a Trustee of the organization.
Now in its 66th year, the RMMLF is a collaborative educational non-profit organization dedicated to the schoalarly and practical study of law and policies relating to traditional and renewable energy, mining, water, public and Indian lands, environmental protection, and other related disciplines.
"It is a distinct honor and privilege in these challenging times to serve this global learning community in a leadership capacity," Butzier said recently. "Over the past several decades' worth of professional and expert volunteer efforts, the Foundation has become known worldwide for the expertise, objectivity, and practicality its members bring to the scholarly legal and policy discussions of important natural resources, energy, and environmental issues of our day."
"I look forward to working with the many talented, dedicated members and staff of the organization to foster adaptive changes to the invaluable services it provides so that the Foundation maintains its vitality and relevance well into the future," he said.
Butzier is an active UNM Law alumnus who often attends events at the law school, especially those hosted by the Natural Resources and Environmental Law Program. He has served on the UNM Law Alumni Association Board of Directors, taught as an adjunct professor, guest-lectured in several classes, and mentored students interested in natural resources law.
"Along with everything else he has done, Stuart has been a great supporter of UNM Law and our NREL Program," said Professor Reed Benson. "He has been very generous with his time, to the benefit of our students."
UNM Law is one of 34 Constituent Law Schools that participate in governing RMMLF, and Professor Benson currently serves as the School of Law's Trustee and on RMMLF's Board of Directors.
"UNM has been actively involved with RMMLF for many years, and we are thrilled and proud that its new president is one of our alumni," Benson added. "RMMLF does a lot for law students, including its scholarship programs, and I know Stuart believes that supporting students is a key part of its mission."
Stuart Butzier is currently the Vice President and Managing Director of the Santa Fe office for the New Mexico-based firm Modrall Sperling, and Chair of the Mining Practice Group. Best Lawyers.com has named him Lawyer of the Year nine times in four practice areas, including a Lawyer of the Year designation in Environmental Law for 2021.
In recent years, Super Lawyers.com named Butzier one of the Top 25 Super Lawyers in New Mexico. The Natural Resources, Energy, and Environmental Law Section of the State Bar of New Mexico also named him Natural Resources Lawyer of the Year in 2018.
Butzier's law practice covers predominantly the western United States, where he focuses on the areas of mineral exploration and mining, solid and hazardous waste treatment and disposal, energy infrastructure, environmental law, public lands, community development and cultural and historical rights of indigenous peoples. He also serves in several professional capacities in the mining and natural resources industries.