Wild Friends awarded Peace Prize: 'Pollinator Protector' license plate now available.
September 11, 2020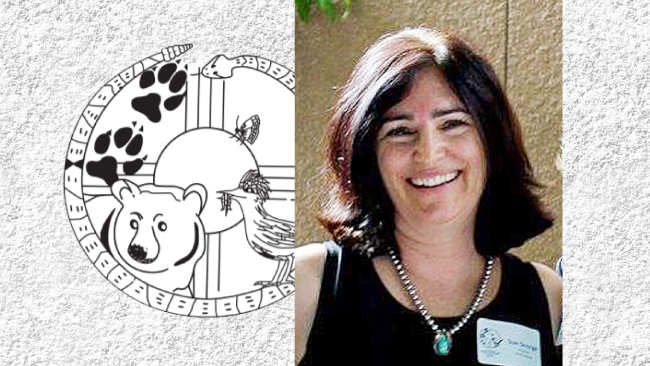 The Wild Friends program at the UNM School of Law was one of 10 awardees of the Paul Ré Peace Prize in August.
The Peace Prize is awarded every other year to UNM students, faculty, staff members, alumni, retirees, or volunteers who promote peace, harmony, and understanding among people worldwide.
"It is a true honor to receive this award on behalf of Wild Friends, in recognition of the approximately 14,000 students over the years who have passionately worked to make changes in New Mexico laws to protect wildlife," said Sue George, Director of the Wild Friends program and a senior attorney at the Institute of Public Law, UNM School of Law.
Wild Friends, which teaches fourth through twelfth-grade students in New Mexico about nature and civics through hands-on research and environmental advocacy, was one of two programs to be awarded the Emerging Promoters of Peace award.
Since 1991, over 14,000 students from across New Mexico have participated in the Wild Friends Program. Students choose a wildlife-related topic by ballot, learn about the topic and the democratic process, and then draft a bill or memorial based upon their research.
In announcing the 2020 roster of awardees, chair of the Peace Prize selection committee, Susan Morrison, said, "We always have excellent nominees, and it is a pleasure and privilege to interact with them."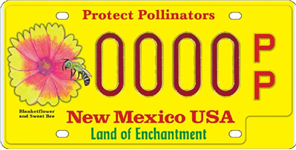 Protect Pollinator plates now available
The Wild Friends' Protect Pollinator specialty license plate, which was officially released this past March, was also made available to New Mexico drivers over the summer.
It is currently available for purchase online at the New Mexico Motor Vehicle Department website.
The license plate has been in development for over two years as Wild Friends undertook the project and shepherded it through the classroom before taking the legislation to the New Mexico State Legislature. Legislators approved the bill in 2019.
"This license plate is the culmination of the work of Wild Friends students across New Mexico, who came together in 2019 to advocate for pollinators at the NM State Legislature, and then created this beautiful plate," said Sue George. "We are so proud of the youth of our state!"
The plate features the artwork of Jazlyn Smith, a sixth-grade student from the Albuquerque Sign Language Academy. A panel of judges chose Smith's depiction of a blanketflower and a sweat bee after a year's work in classrooms.
Public release of the license plate was delayed when MVD offices were closed in mid-March due to the COVID-19 pandemic. The license plate became available for purchase online in June.