Federal Bar Association honors Professor Creel with the 2020 Sarah T. Hughes Civil Rights Award.
October 15, 2020 - Kenn Rodriguez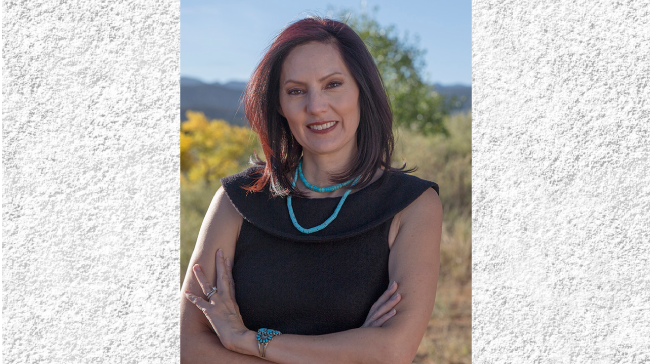 UNM School of Law Professor Barbara Creel (Jemez Pueblo) was awarded the Federal Bar Association's Honorable Sarah T. Hughes Civil Rights Award at the beginning of September. She is just the third Native American recipient of the honor, which is given out yearly by the FBA.
"It's a high honor," she said of the award. "It was a surprise and an honor because of the illustrious company that I share now as recipients of the award. It was very lovely to find out about the award, and I was very happy."
The Hon. Sarah T. Hughes Civil Rights Award is named after Hughes, a renowned federal district judge from Dallas, Texas, who is often touted as the "champion of lost causes, the little guy, the underdog." The award was created to honor lawyers who promote the advancement of civil and human rights, exemplifying Judge Hughes' spirit and legacy of devoted service and leadership in the cause of equality.
Creel, a UNM Law alumna who graduated in 1990, worked for the National Advisory Council for Indian Education in Washington, D.C. after graduation. In 1992, she joined the Native American Program of Oregon Legal Services in Portland, Oregon. Professor Creel taught as a Semester in Practice legal fellow in the Southwest Indian Law Clinic and as visiting faculty in the UNM Clinical law program from 1995-1999. She was then an assistant federal public defender in the District of Oregon before joining the UNM Law faculty as a tenure-track professor in 2007.
Creel, an advocate in Supreme Court cases, said the award provided support for her research on the right to counsel under the U.S. Constitution and Native Americans' right to counsel under the Indian Civil Rights Act.
"We, as Native people and individuals, have been oppressed in developing the right to counsel." she said. "Even though the adversary system is one that has been promoted in the relationship between the United States and Indian tribes, the right to counsel was not promoted. And so, there is a direct line from the denial of the right to counsel in certain venues and the continued oppression of Native peoples."
Creel said her current writing explores the equal protection and the visibility and invisibility of Native citizens in both the federal and tribal legal systems.
"That is why the award is so meaningful," she said. "To be recognized by the Federal Bar Association is incredibly inspiring. Reading about Judge Hughes as the champion of lost causes, of the little guy and the underdog, made me want to carry on and to invite more people to share this responsibility and movement."
In her acceptance speech, Creel asked members of the FBA to recognize Natives and their issues and understand their position in recruiting Natives to work in the federal court system. She also challenged all people to see Natives as more than negative statistics and place themselves in proximity to Native excellence and Native resilience.
"In most cases, it may be a Native against their own tribe or the United States. And there are way too many resources and too much precedent against the individual as part of the larger tribal community," she said. "So many times, lawyers and scholars fail to take a second look at issues to see whether they are missing fundamental principles of fairness and justice. It is important to note that Native Americans do not have the right to counsel under ICRA, and only Natives can be jailed up to a year without the benefit of counsel."
Professor Creel added: "It is not a tribal sovereignty issue, it is a United States issue. It is an equal protection issue. It is a resource issue. And the fact that no others in this nation would ever be jailed without an attorney except for Native Americans (unless they waive counsel). So, one benefit of this national recognition is the opportunity to say Native issues are relevant to us all, are relevant to justice, and important enough to be examined and supported."