UNM Regents Honor Jim Ellis
January 23, 2008

The UNM Board of Regents has presented UNM Law Professor Jim Ellis with the Regents' Meritorious Service Award for his dedication to the students he has taught and mentored, his impact on the legal profession and his tireless defense of the rights of people with mental disabilities in the criminal and civil justice system.
The Regents' Meritorious Service Award is an honor that is rarely bestowed by the Board of Regents, and is given out to honor those staff and faculty members in recognition of extraordinary and distinguished service to the University of New Mexico.
"It is wonderful to be honored by the university," said Ellis. "The opportunity to teach over 30 years has been wonderfully rewarding and it's particularly an honor to have some of my colleagues, students and former students attend the ceremony."
"The University of New Mexico is proud to bestow the Regents' Meritorious Service Award to Jim Ellis, Professor of Law since 1976, for using the law to save the lives of society's most vulnerable and for inspiring generations of University of New Mexico law students," the award read.
Ellis – who teaches Constitutional Rights, Introduction to Criminal Law, and Rights of Children, along with Mental Health and Retardation Law and Mental Disabilities in Criminal Cases – in 2002 argued the case of Atkins v. Virginia before the U.S. Supreme Court. In this case, the Supreme Court held that the execution of individuals with mental retardation violates the Eighth Amendment to the U.S. Constitution's prohibition on cruel and unusual punishment, embracing Ellis' argument.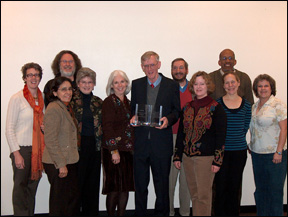 Ellis' interest in mental disabilities dates to his conscientious objector service during the Vietnam War at the Yale Psychiatric Institute. After law school, he worked at the Bazelon Center for Mental Health Law in Washington, D.C. prior to joining the UNM School of Law faculty.
Atkins v. Virginia was the first time Ellis argued a case before any court, preferring to work behind the scenes. During his tenure at the UNM law school, he has filed briefs in 18 Supreme Court cases, always inviting UNM law students to participate in his work.
Ellis has received numerous awards over his illustrious career, including being named "Lawyer of the Year" for 2002 by the National Law Journal. In October 2006, Ellis was received the School of Law's Henry Weinhofen Endowed Chair. Among Ellis' other awards are the Paul Hearne Award for Disability Advocacy from the American Bar Association, the Call to Action Award by the ARC of the United States, and the Champion of Justice Award by the National Association of Criminal Defense Lawyers. He was also recognized by the National Historic Trust on Mental Retardation as one of 36 significant individuals in the field of mental retardation in the 20th century.