Advocacy Tournament Tests 1L Skills
May 1, 2008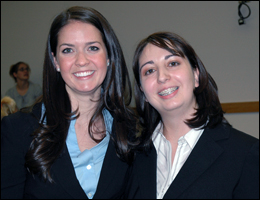 Maggie Murray, left in photo, edged out Desiree Gurule to take top honors in the 13th Annual New Mexico Court of Appeals Oral Advocacy Tournament. A total of 32 first-year law students competed in the end-of-year tournament.
Each student composed a brief for a case that involved the application of the Americans with Disabilities Act to tribal businesses and the appropriate remedies for retaliation under the act. Next they argued the case once before a panel of three judges; students could then choose to move on to the tournament, which required the winners to argue four additional times before reaching the final round.
"It is hard to remember that these are first-year students when you hear the skill with which they argue such complex issues of federal law," says Barbara Blumenfeld, director of the Legal Analysis and Communication program and tournament organizer."Every year I am delighted to watch the transformation that occurs as all the advocacy students take this important step toward becoming attorneys."