UNM Professors Involved in CLE Conference
June 3, 2008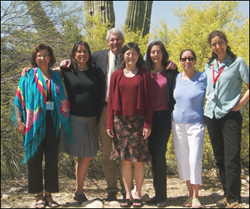 Members of the UNM Law faculty helped organize and participated in the Association of American Law Schools 2008 Conference on Clinical Legal Education, which took place in Tucson last May.
Associate Professor Carol Suzuki chaired the planning committee and Associate Dean Antoinette Sedillo Lopez led a session on "Strategic Planning: Learning from Our Mistakes and Growing from Our Experiences".
Associate Dean Michael Norwood and Aliza Organick (`96), an associate professor at Washburn University School of Law, were panelists on a plenary entitled, "Reflecting on Mistakes and Accomplishments of the Clinical Movement to Plan for a Successful Future".
In the photo are (l-r): Sedillo Lopez, Organick, Norwood, Suzuki and UNM law professors Barbara Creel, Christine Zuni Cruz and April Land.