Barbara Bergman Becomes Associate Dean
August 1, 2008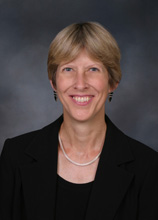 Professor Barbara Bergman has been named Associate Dean for Academic Affairs at the UNM School of Law.
She has been a member of the faculty since 1987 and focuses her teaching on criminal law, but once a year she leads students through an intense Evidence and Trial Practice course.
She is a past president of the National Association of Criminal Defense Lawyers. In 2001, Bergman received the Robert C. Heeney Award, the highest honor given by the association. The Roscoe Pound Foundation also honored her with the Richard S. Jacobson Award for excellence in teaching of trial advocacy.