UNM Teams Debut at Sexual Orientation Moot Court
March 11, 2009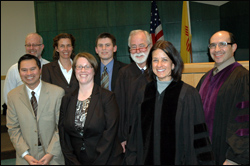 The teams of Corinna Laszlo-Henry and Richard Ortiz, and Paige Duhamel and Derek Garcia made an impressive showing at the National Sexual Orientation Law Moot Court Competition in mid-February.
This was the first year the UNM School of Law participated in the national competition, which attracted 28 teams. The competition was sponsored by the Williams Institute at UCLA.
"I know the students learned a great deal about appellate advocacy and the issues in the problem," says their coach, UNM Law Professor Steven Homer. The problem involved implications of Lawrence v. Texas for substantive due process analysis and the constitutionality of "Don't Ask, Don't Tell".
Pictured after their dress rehearsal are (l-r): Professor Steven Homer, Richard Ortiz, Corinna Laszlo-Henry, Paige Duhamel, Derek Garcia, Justice Charles Daniels ('69), Judge Linda Vanzi ('95), Chief Justice Ed Chavez ('81).
The team members and UNM law school would like to thank the following people for assisting in the students' preparation:
UNM Law Professors
Megan Argo
Max Minzner, visiting
Michael Browde
Judges
New Mexico Supreme Court
Chief Justice Ed Chavez ('81)
Justice Richard Bosson
Justice Charles Daniels ('69)
New Mexico Court of Appeals
Chief Judge Cynthia Fry ('81)
Judge Michael Bustamante ('74)
Judge Jonathan Sutin ('63)
Judge Linda Vanzi ('95)

Second Judicial District
Judge Monica Zamora ('87), Presiding Judge, Children's Court Division
Judge Nan Nash
Lawyers
George Bach ('02)
Mary Behm ('99)
Amber Creel ('06)
Kristin J. Eisenbraun
Miriam Friedland
Kate Girard ('07)
Robyn Hoffman
David Murphy ('08)
Sarita Nair ('03)
Lynn Perls ('89)
Sandra Rotruck ('86)
Maureen Sanders ('79)
Norman Thayer ('60)
Judicial Clerks
Erin O'Connell ('07)
Kristopher Houghton ('08)
Appreciation also is given to the law students who helped organize the teams and run the practices: Rose Bryan, Karen Chase, Taina Colon, Monica Ewing, Kate Loewe and Genevieve M. Graham.