Associate Dean Antoinette Sedillo Lopez Updates Family Law Book
March 11, 2009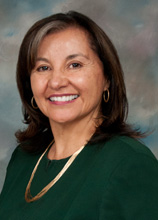 Antoinette Sedillo Lopez, associate dean for clinical affairs, has completed the second edition of Family Law In New Mexico, a book designed to help non-lawyers better understand the complexities of the family law system.
She and the author of the first edition, Barbara Shapiro ('78) are donating all royalties to the Pamela B. Minzner Chair in Professionalism.
The book originally was published in 1998 by Abogada Press, owned by Merri Rudd ('86), a former elder lawyer who is now a probate judge in Bernalillo County, and Rudd's husband.
When the original edition had sold out, Sedillo Lopez, who regularly teaches Family Law, was recruited for the update and completed it during a semester-long sabbatical she took last year.
"There were changes to every major topic, including domestic partnerships, same-sex marriage, tax law and bankruptcy law," she says "And I very much appreciated several colleagues who reviewed sections in areas of their specialty. Several local judges and lawyers also reviewed it. We wanted it to be as accurate and practical as possible.
She also added a new chapter. "While there was some material about domestic violence spread over several chapters, I felt there was sufficient material and it is such an important issue that it deserved its own chapter."
The book also reflects new state Supreme Court guidelines designed to help lawyers negotiate alimony cases and newly legislated mandatory child support guidelines.
"We wanted people who were living together, thinking about getting married or contemplating divorce or legal separation to pick up this book and understand the legal consequences of their decisions. And I know that paralegals, teachers, counselors, law students and even lawyers will find it helpful," says Sedillo Lopez. "The original book was such a service to the community, I was delighted to be part of the new edition."
This is the second book Rudd and her husband, Mark Justice Hinton, have published. They founded Abogada Press in 1991 in order to publish Life Planning In New Mexico, a guide Rudd wrote to wills, trusts, powers of attorney, right to die, nursing home benefits and probate.
Both books can be purchased directly through
Abogada Press
or at a variety of bookstores in Albuquerque and communities around the state.