UNM Professors Present Poster at AALS Conference
June 9, 2009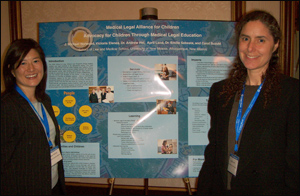 In May, Professors Carol Suzuki and April Land presented a poster entitled, "Medical Legal Alliance for Children: Advocacy for Children Through Medical Legal Education," at the 2009 Association of American Law School's Conference on Clinical Legal Education, in Cleveland, Ohio. Suzuki is the 2009 Chair of the AALS Section on Clinical Legal Education.
Professor Barbara Creel ('90) also attended the clinical conference, presenting a session on "Representing Individuals Through the Lens of Tribal Sovereignty: What Lessons Can Be Learned about Problem Solving and Professional Responsibility and How Can We Effectively Guide Our Students in This Work?"
The Medical Legal Alliance for Children (MLAC) is a multidisciplinary collaboration between the University of New Mexico School of Law Clinical Law Programs and the UNM Pediatrics Department, Pediatrics Clinics and Children's Hospital. The poster displays the educational opportunities for and the relationships among medical professionals, lawyers, law students and medical students who are a part of the collaboration. Medical students work with law students who provide legal representation to patients and families involved with the clinics and hospital. Law students also have opportunities to shadow pediatricians. Through MLAC, law students and medical students develop best practices for collaboration between the medical and legal professions on behalf of at-risk children.