UNM Professors Share Expertise in Interdisciplinary Education
October 8, 2009

Michael Norwood, associate dean for clinical affairs, and Professor Antoinette Sedillo Lopez shared their experiences working with the UNM School of Medicine at a national conference on interdisciplinary collaborative education at Georgia State University.
Norwood participated in a panel discussion that looked at the challenges and opportunities of partnering with health-related organizations and disciplines. He reported on the growth and challenges of the UNM School of Law's Community Lawyering Clinic's collaboration with the UNM School of Medicine's Pediatrics Department. The collaboration is known as the Medical Legal Alliance for Children. It provides educational opportunities for law and medical students and residents to develop their knowledge and skills in addressing the non-biologic needs of socially and economically challenged families. The clinic also provides direct legal services to support the healthy development of children who are patients of the UNM Pediatrics Department.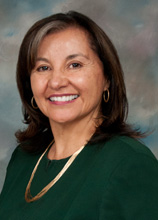 Sedillo Lopez addressed the challenges of crafting educational curriculum in collaborative settings. She described a project she worked on with faculty from the School of Medicine and the School of Medicine's office of Teaching and Assessment. The project was funded by the Scholarship in Education Allocation Committee at the Medical School. The innovation was to use "standardized clients" (actors) to train law students about domestic violence.  Medical schools have used standardized patients in training and assessment for years. She and the other medical school collaborators have written a paper about the experience, which was published in the International Clinical Law Review. The title is, "A Medical/Legal Teaching and Assessment Collaboration on
Domestic Violence: Assessment Using Standardized Patients/Standardized Clients". [14 International J. Clinical L. Ed.  61 (2009)].
The two-day conference was titled, "Interdisciplinary Collaborative Education: Partnerships Between Law Schools and the Health Professions." It attracted law and medical school faculty, along with legal and medical professionals from across the country.
The UNM School of Law has been a leader in addressing the non-medical needs of children and adults through collaborations with the UNM School of Medicine. Projects have included the Healthcare Decision-Making Project, conceived in the early 1990s by Professor Rob Schwartz and Joan McIver-Gibson, director of the UNM Health Sciences Ethics Program, to develop non-judicial mechanisms and processes to help people resolve end-of-life decision conflicts out of court. Norwood initiated the Medical-Legal Alliance and currently Professor Margaret Montoya is working to link the UNM Schools of Law and Medicine to public schools to encourage minority middle and high-school students to consider careers in law or medicine.
Medical-Legal Alliance for Children
Building a Law/Medicine Bridge to Address Domestic Violence