Study Abroad Expands Horizons, Enhances Credentials
October 15, 2009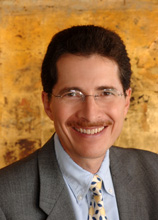 Daniel Ortega has vivid memories of studying abroad and how it opened his eyes to the wider world. The influence of study abroad was so great that he opted to leave his federal Indian law practice in Albuquerque to work as special assistant to the U.S. Ambassador to Spain and Andorra at the U.S. Embassy in Madrid from 1998 to 2001.
These days, as director of the UNM School of Law's International Law Programs, he shares his enthusiasm for study abroad with UNM law students and with international law students applying to spend a semester at UNM.
"Study abroad opens new windows on the world," says Ortega. "You learn to function in a different culture while discovering a lot about yourself. Even if a student plans to practice in New Mexico, international experience will enhance credentials while imparting sensitivity to other cultures."
"For example, with the continuing influx of immigrants from Mexico and elsewhere to New Mexico, a lawyer who has studied abroad likely would relate better to potential foreign-born clients and diverse U.S. clients, and thus would have an edge over competitors in the ever more global legal marketplace," he says.  In addition, New Mexico's current majority-minority and immigrant demographics foreshadow the future U.S. population, so international experience is increasingly valuable in our society.
The flagship international opportunity for UNM law students is the Guanajuato Summer Law Institute, a rigorous four-week program in central Mexico, with an optional two-week externship with a judge or practitioner. "For students who have not studied abroad yet, Guanajuato would be a good introduction to Mexico and international education," says Ortega. "Most courses are taught in English and lectures in Spanish are translated simultaneously. Also, students go with UNM faculty and classmates, and they meet students from across the U.S., so it's a great networking opportunity."
Law students also can take advantage of the many UNM exchange agreements with universities around the world. Under these agreements, students pay their regular law school tuition to study abroad. There are also dozens of semester- and summer-abroad programs sponsored by other universities that are listed on the ABA website.  Tuition costs vary for these non-UNM programs. Travel and living expenses are extra and differ widely from country to country.
Students can spend a semester abroad in their second or third year of law school, but most avoid their last semester so they can be in Albuquerque for graduation and bar review.
"It's preferable to start planning to go abroad during the first year so that electives can be timed accordingly," he says. "Application deadlines are Feb. 15 for the fall semester and Oct. 1 for the spring semester, so foresight is essential."
A popular destination is the University of Tasmania in Australia. UNM professors Rob Schwartz and Marsha Baum have taught there, and a number of students have studied there. Everyone has come back describing a beautiful country, friendly people and a challenging legal education program. An attractive feature of this opportunity is the shared common law tradition and, of course, the shared language.
In addition to Australia, in recent years UNM law students have studied in Argentina, Brazil, France, Mexico, the Netherlands and Spain. The opportunities are limited only by a student's imagination. Many summer abroad programs are taught in English, so language is not necessarily a geographically limiting factor.
Ortega urges any UNM law student even remotely interested in going abroad to meet with him to explore the possibilities. "I would advise students to seriously consider studying abroad during law school, because it's probably the last chance before they launch their busy and demanding careers to spend several weeks or months discovering a new country and culture, and who knows where it could lead?," he says.
"International experience can prepare you for jobs you can't imagine now," he says. "When I was a Watson Fellow learning the Catalan language in Barcelona, the prospect of working at the U.S. Embassy in Madrid never crossed my mind. Yet it was my experience in Spain and Andorra - a tiny country between Spain and France where Catalan is the official language - that ultimately prepared me to seize that singular opportunity years later."