Professor Jim Ellis, Gail Chasey (`08) Present at Death Penalty Congress
March 17, 2010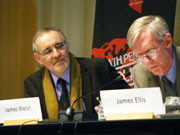 Professor Jim Ellis and State Rep. Gail Chasey (`08) made presentations at the Fourth World Congress Against the Death Penalty in Geneva, Switzerland, in late February.
Ellis was a member of a roundtable that addressed the practice of putting to death juveniles and developmentally disabled adults. The roundtable focused on developing strategies to specifically protect juveniles and people with mental disabilities from execution, along with wider-ranging preventive tactics, such as better health care and education. He discussed his ground-breaking work in this area.

Chasey spoke during the plenary session, which focused on establishing strategies to move toward abolition in the United States, China, Japan and Iran. Beginning in 1999, she introduced bills in the New Mexico Legislature to eliminate the death penalty and was finally successful in 2009, when lawmakers passed legislation, which Gov. Bill Richardson signed into law.
The congress was organized by the Coalition to End the Death Penalty, and brought together invited activists, politicians, academics and artists to help define abolitionist strategies, from different angles to racial and social discrimination in the enforcement of the death penalty. Currently, 56 states and territories around the world still have the death penalty, including China, Iran, Saudi Arabia, North Korea and the United States.