Guanajuato Students Delve into Workings of U.S. Government
April 7, 2010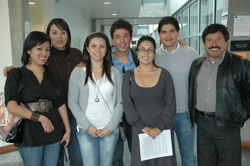 Six law students from the University of Guanajuato in Mexico recently spent a week in Albuquerque, where they attended classes and met with students at the UNM School of Law, visited various courts and even enjoyed a personal meeting with Gov. Bill Richardson.
The UNM School of Law visit has been a University of Guanajuato tradition for more than 10 years. In addition, for more than 20 years, groups of UNM law students have attended the Guanajuato Summer Law Institute at the University of Guanajuato.
During their visit, the Guanajuato students, most in their final semester of law school, gained knowledge about how government works in the United States and its legal system.
They also met with Judge Martha Vazquez, chief judge of the U.S. District Court; Second Judicial District Judge Ross Sanchez, sitting behind the bench during a proceeding, and they received a personal tour of the new Court of Appeals Pamela B. Minzner Law Center by Judge Michael Bustamante (`74). They learned about the Attorney General's Office from Assistant Attorney General Al Lama and toured the Roundhouse.
To ensure that their trip wasn't all work, MALSA students hosted a dinner for the Mexican students.  In addition, the visiting students took a trip to Sandia Crest, where they all saw snow for the first time.
"Law students at the University of Guanajuato are some of the top law students in Mexico. Visits like this provide an invaluable opportunity for our students to interact with students who represent the future of the Mexican legal system," said UNM Law Professor Sergio Pareja, director of the Guanajuato Summer Law Institute. "Equally as important, this visit gave the Mexican law students an opportunity to meet our amazing law students and to learn a little about our legal system. As the only law school in one of the few U.S. states bordering Mexico, we feel compelled, and privileged, to engage in this exchange."