DWI, Domestic Violence Prosecutions Target of New Course
May 1, 2010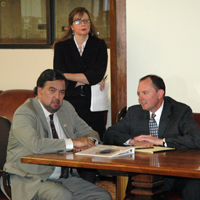 Dean Kevin Washburn and Gov. Bill Richardson have announced a new law school course designed to strengthen the state's ambitious campaign to reduce DWI and domestic violence incidents.
The course, titled, DWI and Domestic Violence Prosecution in Practice, will debut in the fall 2010 semester and will provide targeted instruction and training in DWI and domestic violence prosecutions. In the upper-level course to be taught by Visiting Professor Hope Eckert (`00), every week students will receive two hours of classroom instruction and 10 hours of hands-on experience prosecuting DWI and domestic violence cases.
"We've thrown the kitchen sink at DWI and now we're going back to basics," said Richardson at a May 5 press conference inside the Gov. Bruce King Reading Room at the UNM School of Law. "Students at UNM will now have the opportunity to delve deeper into the causes and treatment of domestic violence and DWI that will prepare them for their legal careers before they leave college."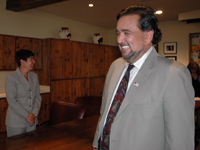 The new course initially will be funded with a $150,000, 18-month grant. In addition to the semester-long course, a summer practicum in which ongoing cases will be prosecuted will be offered for students seeking more courtroom experience.  The course will be limited to eight students.
"I am encouraged by this project and I am confident that more of our future attorneys will get the training they need and will be able to better prosecute DWI and domestic violence cases in New Mexico," said Richardson. 
Throughout the state, many of the DWI and domestic violence cases are often handed off to new law-school graduates with little experience in that area of law, and the goal of the new course is to send them into those jobs better prepared for what they will encounter, said Rachel O'Connor, the governor's DWI Czar.
"Education is at its best when it is engaging students in the most pressing complex issues of our day, and that kind of public engagement has long been a key strength of the UNM School of Law," said Washburn. "Our faculty looks forward to restoring a prosecution practice component to its nationally recognized hands-on curriculum."