Professor Barbara Bergman Receives Award for Advocacy Excellence
June 1, 2010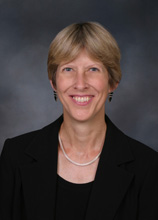 UNM Law Professor Barbara Bergman, associate dean for academic affairs, recently received a Lifetime Achievement Award for Excellence in Advocacy from Stetson University College of Law. Stetson's Lifetime Achievement Award recognizes excellence in all facets of advocacy, from teaching others to representing clients. This was the fourth year the award was presented.
"Dean Bergman personifies excellence in teaching advocacy," said Professor Charles H. Rose III, Stetson advocacy center director. "Her accomplishments as a trial lawyer, as a champion of others and as both a lifelong student and teacher of advocacy place her in the forefront of all that is noble about our profession. She honored us by accepting the lifetime achievement award."
Bergman has been a member of the UNM law faculty since 1987. She has focused her teaching on criminal law, but also leads students through an intense Evidence and Trial Practice course.
Among her many accomplishments, she was a member of the defense team for Terry Nichols, in a state death penalty case involving the bombing of the Alfred P. Murrah Federal Building in Oklahoma City, and she co-authored the 15th edition of Wharton's Criminal Evidence and the Everytrial Criminal Defense Resource Book.
She has served as president of the National Association of Criminal Defense Lawyers and is the recipient of the Robert C. Heeney Award, the association's highest honor. Bergman also received the Richard S. Jacobson Award for excellence in teaching of trial advocacy from the Roscoe Pound Foundation.