Hampton Sides Kicks off New Arts Talk Season
September 29, 2010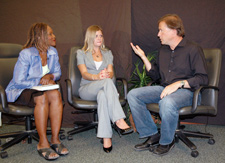 Hampton Sides, New York Times best-selling author, joined Professor Sherri Burr and co-host Sheila Jones in the taping of Arts Talk, a local-cable television show produced by Burr and students in her Entertainment Law class. The show will kick off the show's new season from 7- 7:30 p.m. Oct. 4 on Comcast Cable Channel 26.
Sides, a Santa Fe resident, discussed his new book, HELLHOUND ON HIS TRAIL: The Stalking of Martin Luther King, Jr. and the International Hunt for His Assassin. During the interview, Sides revealed that he grew up in Memphis, where the assassination took place, and the he has held a fascination with the tragic event throughout his life. His three years of research took him around the world, tracing the footsteps of Ray.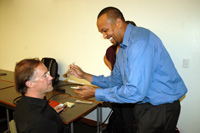 UNM law students helped with all aspects of the television production, from securing guests for the show, serving as the attorney in charge of obtaining release agreements from guests and the audience to sign, to even applying makeup.
Upcoming guests will include Steven Holzier, an executive producer with REELZ TV, a digital television station based in Albuquerque, and Ray Zimmerman, a film producer and former studio executive.