South Valley Academy Students Visit Law School
September 15, 2010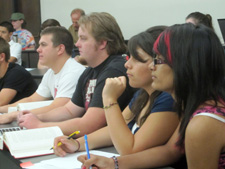 Eleventh-grade students from South Valley Academy recently spent a morning at the University of New Mexico School of Law, where they learned what it was like to be a law student. To prepare for their visit to the law school, the students were assigned to read a first-year contracts case.
At the school, they were matched up with a law student and given time to prepare for the class, co-taught by professors Fred Hart and Nathalie Martin. Some of the high school students were even subjected to the Socratic method.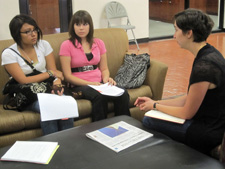 After the class, the students toured the library, clinic and the Pamela B. Minzner Court of Appeals Law Center.
South Valley Academy is a charter school, whose mostly Hispanic student population speaks Spanish as the first language. Most graduates move directly to college.
In Stewart Paley's reading seminar class, students have been reading about and discussing issues in the news, many of which involve legal rights. "To make this reading more relevant and real, we decided to attend law school for a morning," he said.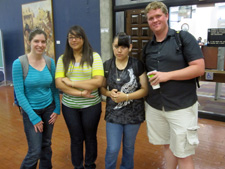 "It was a great experience," said Paley. "My students had a real taste of graduate school, received some excellent advice on college from recent graduates and enjoyed the opportunity to see avenues that lie beyond high school.  We also survived Professor Martin's grilling with only minor bruises."