Indian Law Convocation Builds Community
December 16, 2014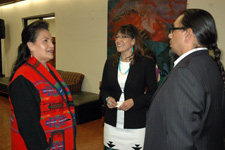 Vanessa Ray-Hodge, counselor to the solicitor of the U.S. Department of the Interior, presented the keynote address at the 17th Annual Indian People/Indian Law Academic Convocation and Gathering of Communities at the University of New Mexico School of Law on Nov. 18.
The annual event brings together Indian law students, graduates of the UNM Indian law program, their families and dignitaries in a festive evening of conversation. This year, 30 Native American students representing 19 tribes are studying law at the UNM School of Law.
"This annual convocation reaffirms the law school's commitment to educating American Indian law students and teaching Indian law to all of our students," said Professor John LaVelle, director of the Indian Law Program.
During the evening, Samantha Azure (`13) was awarded the Toby Grossman Scholarship by the Indian Alumni Council The Native American Law Students Association conducted a silent auction and a raffle, which raises funds for the group.