On the Road with Professor Ted Parnall: Kosovo, East Africa
January 3, 2011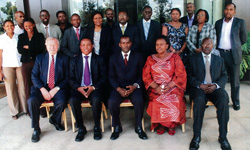 September in France, October in Kosovo, then on to Rwanda. That was how Emeritus Professor Ted Parnall (`67) spent the fall of 2010. His mission (in order): vacation, helping establish an LL.M program and ongoing work on a project for the East African Community Secretariat.
Through the past 40-some years, Parnall has established an international reputation as a go-to guy for advancing legal education and legal systems in developing countries around the world and he is still in demand. After spending a month touring through France with his wife, Kathy, and Emeritus Professor Ted Occhialino and his wife, Sally, Parnall was off to Kosovo's capital, Pristina, where he worked on setting up an LL.M program in commercial law at the University of Pristina.
On Behalf of Equity

Emeritus Professor Ted Parnall (`67) has been trotting the globe for his entire legal career, working on law development and legal education in developing countries. He left on his first trip two days after completing his final exam at the University of New Mexico School of Law. That was to Liberia to teach law as part of an early Ford Foundation Rule of Law initiative.
In following years, he was assigned to the law faculty at Haile Selassie University in Addis Ababa, Ethiopia, spent a year as legal adviser to the Ministry of Economy/ Foreign Investment Authority for the government of Egypt and supervised a private sector law development project in Tunisia for USAID. He served as the resident legal adviser to Harvard Law School's UNDP-funded law reform project in Laos and directed a $15 million law reform project in Indonesia, also for USAID. He took time off from his teaching and deanly duties at the UNM School of Law to take on these projects.
In typical form, shortly after he retired from the UNM law faculty in 1998, he was on a plane to Hanoi, Vietnam, where he spent three years working on projects for the United Nations. Since then he has worked on projects in Afghanistan, Eritrea, Madagascar, Kyrgyzstan and Montenegro.
"The people I've met and worked with have been true heroes and some of them risked their lives, careers and fortunes to strengthen the rule of law in their countries," he said.
Parnall advocates for four central principles on each project:
Transparency – establishing rules that are made available to everyone, not just the elites;
Participation – so people have a better connection to, and ownership of, whatever rules that are adopted;
Education – encouraging a broad awareness of new laws and rules, without which awareness none of the reforms would matter;
Anti-corruption – Nothing works when officials aren't willing to be bound by the law themselves, and are not looking toward the public good.
"It's never easy, but many of the people I work with in these countries are always yearning for equity and attempting to develop some principled system of law to further economic efficiency and social justice," he said. "No country I know of has completed the job, including the United States. It's always a work in progress."
During the month of October, he offered suggestions for a syllabus, curriculum and resources needed for the new program. An objective of the United States Agency for International Development (USAID), which is supporting the project that hired Parnall, was to improve the skills of Kosovo lawyers in the area of contracts.
"The hope is that by improving the skills of lawyers, contracts can be enforced and breaches reduced, thus strengthening the use of contracts in the country," he said. "When I left, they had the beginnings for the program and I hope it will be able to start next fall."
Creating legal harmony
Then it was on to Dar es Salaam, Tanzania; Nairobi, Kenya and Kigali, Rwanda, where he continued work on a project that had begun in February 2010 for the East African Community (EAC), an organization comprised of Rwanda, Uganda, Kenya, Burundi and Tanzania.
Parnall was helping an international team develop guidelines as part of a project titled Harmonization of Legal Education, Certification and Introduction of Cross-Border Legal Practice in the Community. The EAC Secretariat engaged the Uganda-based International Law Institute – African Centre for Legal Excellence for the project. The institute put together a team that included Parnall and Ben Twinomugisha, dean of the Makerere University law faculty, as team leader.
On two visits, Parnall attended workshops in three of the five partner states of the EAC to familiarize himself with their legal institutions, and made at least short stops in all five. He spent the most time in Kenya, the country to which he was assigned as part of the project to develop a coordinated approach to legal education and attorney licensing among the countries.
The goal of the project is not to create uniformity, but rather to develop a practical, harmonious system of both law and legal education that would allow lawyers and businesses to operate more easily across borders and enable people to have freer movement and work in the five countries.
In Kenya, he met with Supreme Court members, legislators, members of the executive branch and legal educators, all involved in strengthening their legal system and making reforms in legal education so that all five partner states of the EAC have legal systems compatible for commercial activity and increased social traffic.
"After my visit to Nairobi I prepared a preliminary report offering my thoughts to our team on how to develop common standards for legal education, a model syllabus for legal education, model bar admission standards and a road map to achieve this," he said.
"The goal is to develop guidelines and standards to allow lawyers from each country to understand and work in the legal systems of all five countries," said Parnall. His early November visit to Dar, Nairobi and Kigali was to assist Twinomugisha in presenting the interim report to a series of national workshops attended by leaders of the legal communities in the five partner states.
Parnall has been impressed with the dedication of his African colleagues: "It has been rewarding to see very smart, talented lawyers, judges and educators willing to work together and build a system that will facilitate economic transactions and improve the ability of citizens to work and live across borders with a focus on the future, rather than being driven by regional rivalries and past grievances."
He hopes to return to the region next year to present his part of the Team's final report at an EAC regional conference in Arusha, Tanzania.