Professor Zuni Cruz Receives Prestigious Pincus Award
January 1, 2011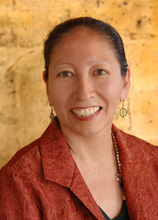 UNM Law Professor Christine Zuni Cruz has received the 2010 Pincus Award, the most prestigious honor presented by the American Association of Law Schools' Section on Clinical Legal Education. She received the award at the association's annual meeting in early January 2011.
After reviewing a number of strong nominations, the clinical section's awards committee concluded that Zuni Cruz "fully embodies the qualities envisioned by the Pincus Award and that her contributions to clinical education and advancement of justice illustrate the extraordinary range and value of the ideals expressed in the award's criteria," said Amy Applegate, chair of the section, in announcing Zuni Cruz's selection.
Zuni Cruz joined the University of New Mexico School of Law faculty in 1993 to establish the Southwest Indian Law Clinic, which has provided students hands-on Indian law experience. She also serves as editor-in-chief of the Tribal Law Journal. A member of Isleta Pueblo, she was the first pueblo woman to earn tenure as a law professor.
"Professor Zuni Cruz has long been a national leader in clinical legal education, having spawned a whole new genre of clinical education for work in the field of Indian and tribal law," said Dean Kevin Washburn. "While being a transformative clinical teacher with a national reputation, she also founded the Tribal Law Journal and has been a very active legal scholar. Few professors combine excellence in disparate fields in the way she has. She is eminently deserving of the Pincus award."