Professor Denise Fort to Teach in German Summer Program
February 9, 2011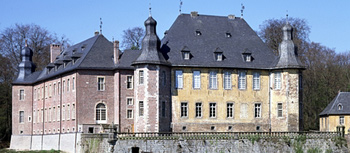 Professor Denise Fort will teach a University of New Mexico summer program at the Schloss Dyck Castle in Germany's picturesque Rhine country. The program title is Carbon and the Future of the World. Students will receive three credits for her course and three credits for the companion course. (Both sections must be taken by participants.) An information session will be held on Monday, February 28, 2011 from 1:30-3:30 p.m. in Scholes Hall, Roberts Room (2nd floor). Please stop by as your class schedule allows.
2011 Schloss Dyck Summer in Germany Scholarship Information
Students interested in scholarship opportunities can visit the following links for scholarship information. The deadline for scholarship applications is March 1. Many previous students of this program have been recipients of more than one scholarship.
1) International Studies Institute Scholarships:
https://isi.unm.edu/ 
https://isi.unm.edu/study-abroad/summer-in-germany/index.html
Office of International Programs and Studies Scholarships:
2) Regents International Studies Grant
Scholarship information
Fort's part of the program, from June 20-July 1, is titled, The Legal Framework for Carbon Reduction. It will explore the European perspective on energy and climate and how Europeans view the evolving international situation. Students will travel to Amsterdam and Brussels to meet with climate activists, renewable energy proponents and public officials. Litigation and the reaction of international and domestic tribunals will also be discussed.
"The control of carbon is one of the most vexing problems of our time. It is a rich area for students to explore because it illustrates how environmental problems can be approached at different levels of governance and provides examples of successful approaches," said Fort.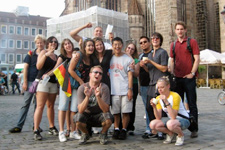 The first part of the program, from June 6-17, is titled, The Science of Carbon, and will be taught by Professor Tobias Fischer of UNM's Department of Earth and Planetary Sciences. Topics will include the global carbon cycle and atmospheric carbon contents through geologic time, carbon gases and effects on global warming, anthropogenic carbon emissions, carbon sequestration, storage and monitoring and hydrocarbons as fuels. The class will be appropriate for students of all backgrounds.
To apply, complete the Schloss Dyck Summer 2011 Application.
Both sections of the June 6-July 1 program are open to undergraduate and graduate students and knowledge of German is not required. The summer program is sponsored by the UNM International Studies Institute.