Tribal Law Journal Honors Professor Christine Zuni Cruz
March 22, 2011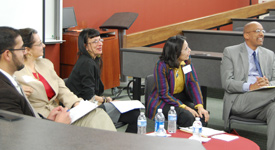 Professor Christine Zuni Cruz (`83) was the focus of a March 10 symposium organized by the Tribal Law Journal. Cultivating Native Intellect and Philosophy: A Community Symposium Recognizing and Discussing the Contributions of Christine Zuni Cruz was the title of the symposium at the University of New Mexico School of Law.
Zuni Cruz's work was discussed in two panel discussions, which focused on Native thought and philosophy in tribal courts and community lawyering.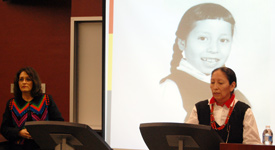 A member of Isleta Pueblo, Zuni Cruz joined the UNM law faculty in 1993 to establish the Southwest Indian Law Clinic (SILC). As co-director of SILC, she has developed cultural literacy methods for students and practitioners representing Indian tribes and Indian people. In her research and teaching, Zuni Cruz explores law and culture, including the impact of law on Indian families, the practice of Indian Law and lawyering for native communities and the internal traditional and modern law of indigenous peoples domestically and internationally.
The afternoon symposium was followed by a dinner, which featured Frank Valdes as keynote speaker. Valdes, a professor at the University of Miami, is a leading figure in the Latina/o Critical Legal Theory movement and gay rights scholarship.