Utton Center Involved in National Water Resources Meeting
November 16, 2011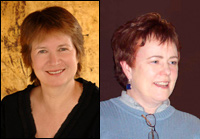 Professor Denise Fort and Darcy Bushnell (`89) participated in the 47th annual meeting of the American Water Resources Association, which took place in early November in Albuquerque. Fort is director of the Utton Transboundary Resources Center and Bushnell leads the center's Water Ombudsman Program.
Fort presented at two sessions, which were titled, "Importing Water: How to Think about Energy and Sustainability" and "Water Efficiency and Instream Flows: Making the Watershed Link".
Bushnell was on a panel titled, Forging a 21st Century Water Resource Agenda in Indian Country.
The annual conference was designed to provide a multidisciplinary approach to water resources issues that range from local to international in scope. Because the conference took place in the Southwest, it provided attendees from across the United States and other countries an opportunity to observe and understand how the U.S. is dealing with limited water resources in areas of rapid and sustained population growth.
Topics included climate change, remote sensing, instream flows, surface-water quality modeling, groundwater vulnerability, resource interdependencies, green infrastructure, water resources management and water marketing.