Professor Fort Joins Water Experts for Stanford Workshop
November 16, 2011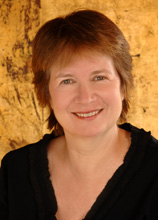 Professor Denise Fort, director of the Utton Transboundary Resources Center, was invited to make two presentations at a mid-October gathering of water experts from the United States and Australia. The workshop took place at Stanford University.
Three institutions: the United States Studies Center at the University of Sydney, the Woods Institute for the Environment at Stanford University and the Bill Land Center for the American West at Stanford organized the gathering. The purpose was to have discussions among this select group of people about how different U.S. states and national governments manage the effect of groundwater withdrawals on surface water and groundwater dependent ecosystems.
Fort's presentations were titled, "How Do States Ensure Water Policy Recognizes Surface Water-Groundwater Links" and "Intersections between Emerging Science/Technologies and Groundwater Law and Policy."
"It was a stimulating and eye opening meeting," said Professor Fort. "Australia has used the impetus of severe drought to begin to measure and protect ecosystems from groundwater depletion.
"As it happens, I wrote a report on this topic in 1991, but have found very little interest in the U.S. The tide is turning, and some day states may also begin to protect these important ecosystems," she added. "Conversely, western states in the U.S. are more attuned to how groundwater pumping can negatively affect surface flows. In New Mexico, compact compliance has forced our legal system to be cognizant of these connections."
John Draper, a 1975 graduate of the UNM School of Law, a well-known water lawyer from Santa Fe, also participated in the meeting.