Clinical Law Faculty Presents at AALS Conference
June 7, 2012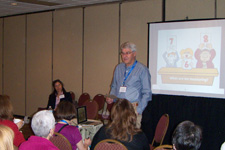 Members of the clinical faculty at the University of New Mexico School of Law played prominent roles at the 2012 Association of American Law Schools' Conference on Clinical Legal Education, leading a number of presentations.
Professor Carol Suzuki was a member of a plenary session panel titled, "Teaching Lawyering Skills in the 21st Century." The panel discussed foundational and emerging methods of teaching lawyering skills. During the session, she played a clinical law student negotiating a deal, after which the panelists and audience members discussed negotiation skills teaching, as well as cross-cultural, bias, emotional, neuroscience and psychological issues. 
Associate Dean for Clinical Affairs April Land, Emeritus Professor Mike Norwood (`70), Professor Camille Carey and Suzuki presented an interactive session titled, "Measuring the Magic," in which they explored the diverse assessment methods clinical teachers use to evaluate student performance, with a special focus on how clinicians create and measure the magical transformations that clinical students can experience as they develop into reflective practitioners while enrolled in a clinical law program. Appropriate to the Los Angeles conference site, they even brought in a magician to illustrate this transformation.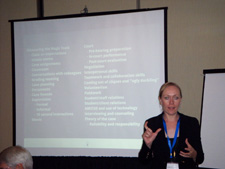 Carey made a presentation with Professor Robert Solomon of the University of California, Irvine School of Law, about a work in progress. They are writing an article together with a working title of, "When Enforcing Restraining Orders Collides with Economic Security: What's the Role of the Lawyer."
The annual conference is the leading forum for clinical law professors nationwide to share ideas and methodologies.