UNM Law Professors Contribute at Law and Society Meeting
June 18, 2012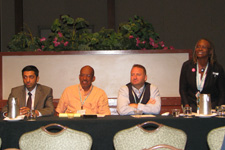 The UNM law faculty was well-represented at the 2012 International Conference on Law and Society in early June. Professors Sherri Burr, Alfred Mathewson, Elizabeth Rapaport and Dawinder "Dave" Sidhu made presentations and Professor Rob Schwartz participated in round-table discussions during the four-day meeting in Hawaii. The theme of the conference was Sociolegal Conversations across a Sea of Islands.
Burr, Mathewson and Sidhu participated in a panel titled Race, Class, and Financial Markets. Burr's paper, "The Economic Impact of Unconscious Bias," discussed how Blacks and other minorities are having job and other wealth-accumulating opportunities affected by unconscious bias and taste-based discrimination.
In his paper titled, "Intersectionality, the Badge of Inferiority and Economic Inequality," Mathewson focused on race and economic inequality through an intersectionality lens. He considers intersectionality one of the most important theories to emerge from critical race theory. The theory recognizes the simultaneous occurrence of discrimination on the basis of race, gender, class, sexual orientation and other factors.
Sidhu's paper was titled, "A Constitutional Remedy for the Urban Underclass." He explored whether the conditions of the urban underclass, generally those who possess limited economic opportunity and who are spatially isolated in areas of concentrated poverty, violate the Thirteenth Amendment to the U.S. Constitution, which was designed to end slavery formally and which also reaches modern circumstances involving some physical restraint.
Rapaport presented, "A Modest Proposal: The Aged of Death Row Should Be Deemed Too Old to Execute," during a panel titled Issues Concerning Capital Punishment. In her paper, she drew a statistical portrait of the aged death row at the present time and tracked the growth of this population. The paper then considered the prospects for relief for the elderly condemned from death row confinement and continued threat of execution.
The Law and Society Association, founded in 1964, is a group of scholars from many fields and countries interested in the place of law in social, political, economic and cultural life. Members bring training in law, sociology, political science, psychology, anthropology, economics and history as well as in other related areas to the study of sociolegal phenomena.