The Utton Center Releases Water Matters!
February 4, 2013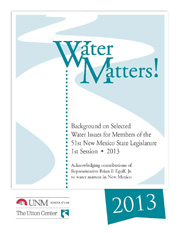 The 2013 edition of Water Matters!, a guide to New Mexico's water issues published by the Utton Transboundary Resources Center, is now available on line. This year's compilation includes four new articles:
Water Litigation on the Lower Rio Grande
Water Rights Management in New Mexico and Along the Middle Rio Grande: Is AWRM Sufficient?
Transboundary Waters: The Rio Grande as an International River;
Water Marketing in New Mexico.
In every issue, Water Matters! honors a legislator who has helped advance understanding of New Mexico's water, natural resources and the environment. This year, that honor went to Rep. Brian F. Egolf, Jr. a leader in water issues at both the Roundhouse and in his home community of Santa Fe.  "Like all good encyclopedias, Water Matters! continues to grow. This year the guide approaches 270 pages," said UNM Law Professor Denise Fort, who is also director of the Utton Center.  "The Utton Center is proud to contribute to our increasing understanding of New Mexico's water resources."
Water Matters! can be found
here