ARTS TALK Takes Home Two First Place Awards
May 7, 2013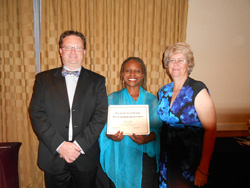 ARTS TALK, a local-cable television show produced by Professor Sherri Burr and students in her Intellectual Property and Art Law classes, received first place in the category of Talk Show, Television and in the category of Best Television Interview at the 2013 New Mexico Press Women Awards ceremony on Saturday, April 27th. Second year law student Jeffrey Mitchell co-hosted the episode that won the Talk Show award which explored the creative process behind Author Melody Groves' book on Southwestern Bars.  In the category of Interview, Television the first place winning episode included authors Don Bullis and Slim Randles.
Episodes taped during the spring semester will air on the following Monday nights on Comcast Channel 27 at 7:00 p.m.:
May 13, 2013: Jonathan Miller, author of Rattlesnake Lawyer and Rattlesnake Wedding
May 20, 2013: College of Fine Arts Dean Kym Pynder and Arts Management Director Ramsey Lofton with co-host Marne Elmore, who is an Art Law Student and studying for a Masters in Fine Arts.
May 27, 2013: Photographer Craig Varjabedian with co-host Jeffrey Mitchell.
June 3, 2013: Bruce McKenna (script writer for HBO's Band of Brothers and producer/show-runner/script writer for HBO's The Pacific. In the audience was Chester Nez, the last surviving original Code Talker and co-author of the memoir Code Talker.