Professor Antoinette Sedillo Lopez Selected for Presidential Luminaria Award
November 13, 2013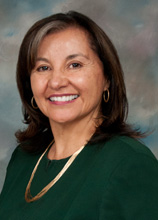 Professor Antoinette Sedillo Lopez, Dickason Professor at the University of New Mexico School of Law, is one of two UNM faculty members to receive the 2013 Presidential Luminaria Awards by the UNM Division for Equity and Inclusion.
The Luminaria Awards recognize individuals and organizations that have lit the path in areas of diversity, equity, inclusion or social justice. Their commitment can be evident in recruitment and retention of underrepresented groups; teaching, research and/or service; multicultural or cultural awareness programming; social justice organizing, community outreach or other similar activities.
The contributions Sedillo Lopez has made in lighting the path in diversity, equity, inclusion, and social justice include chairing the UNM self-study special emphasis sub-committee on "Educating Tomorrow's demographic today" and chairing the Hate and Bias incident task force. She served as a faculty advisor to Mexican American Law Students Association and a board member of the New Mexico Hispanic Bar and Enlace Comunitario. Currently she is a board member of the Southwest Women's Law Center and a member of the Southwest Hispanic Research Institute and the Feminist Research Institute. Lopez has published articles and poetry relating to cultural competence, diversity, and social justice.
"I think diversity, equity, inclusion and social justice need to be factors in all aspects of educational and social policy, and I am really honored and also humbled that my passion for these issues was recognized, but there are so many faculty members, students, staff and administrators who are passionate about these issues at UNM," says Sedillo Lopez. "That is what makes UNM such a special place."