The Kathryn and Ted Parnall Scholarship for Law as an Instrument of Economic Growth and Social Development
November 14, 2013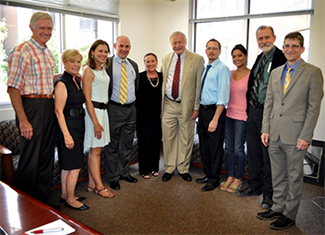 The University of New Mexico School of Law is proud to announce the establishment of the Kathryn and Ted Parnall Scholarship for Law as an Instrument of Economic Growth and Social Development.
The primarily merit-based scholarship will be awarded to selected full-time second year or third year UNM law school students who view law as more than a means of dispute resolution and view the law as a tool for both domestic and international economic development and a more equitable restructuring of the social order.
Ted Parnall is a graduate of the UNM School of Law, a Professor of Law Emeritus and a former Dean of the UNM Law School. He and Kathy spent more than 20 years in places such as Cairo, Vientiane, Tunis, Jakarta and Hanoi, where Ted concentrated on both improving legal frameworks for investment and judicial education. In Hanoi, Kathy contributed significantly to post-1975 US-Vietnamese relations by being one of the few western women who sang (in Vietnamese) at the Hanoi Conservatory of Music, the Hanoi Opera House and at several concerts for the blind and victims of natural disasters.
The scholarship was established by John Mel Eaves and Bert Parnall in collaboration with Mary Ann Eaves, Marta Parnall, David Parnall, and Charles Parnall. It is the intention of the donors that this scholarship will encourage a UNM Law student to follow a path, like Ted and Kathy's, which will have a positive impact on the economic growth and social development in New Mexico and throughout our world.