UNM Law School Professor Barbara E. Bergman to Receive the 2014 Justice Mary Walters Award
February 5, 2014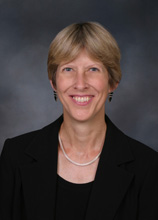 UNM Law School Professor Barbara E. Bergman has been selected to receive the 2014 Justice Mary Walters Award from the UNM Women's Law Caucus at 6 p.m., March 14, 2014 in Ballroom B of the UNM Student Union Building.
Each year, the Women's Law Caucus chooses an outstanding woman in the New Mexico legal community to honor in the name of former Justice Mary Walters, the first woman appointed to the New Mexico Supreme Court.
"Professor Bergman represents the trailblazing spirit that advocates growth and provides opportunities for women in the legal community," says Robyn Rose, Vice President of Community Outreach for the Women's Law Caucus. "Her teaching has honorably served the law students, the law school, and the legal community in New Mexico. We are proud that she has been selected to receive this honor."
Tickets for the Justice Mary Walters Award Ceremony are $50 or $350 for a table of eight. To purchase tickets visit the Women's Law Caucus website.