Regents Professor Sherri Burr Receives Communicator of Achievement 2014 Award from New Mexico Press Women
May 12, 2014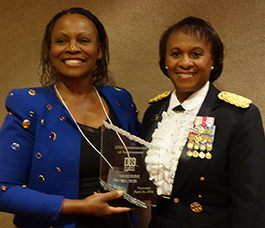 Regents Professor Sherri Burr was named the 2014 New Mexico Communicator of Achievement, the organization's highest honor, at the annual New Mexico Press Women (NMPW) conference in Las Cruces on April 26.
The award recognizes achievement in the communications professions and service to the community and the field, including leadership in the National Federation of Press Women (NFPW) and its affiliate.
Burr will represent New Mexico in the NFPW Communicator of Achievement competition.
Burr has been very active in the organization, serving as the NMPW Vice-President and Bylaws Committee Chair. Currently she is chair of the NMPW 2015 state conference. She has received numerous awards from the NFPW and NMPW for her publications and television show ARTS TALK.
At the Law School, Burr teaches intellectual property law, art law, entertainment law, wills and trust, and international law. She joined the faculty in 1988, after having received her A.B. (Politics) from Mount Holyoke College, her M.P.A (International Relations) from Princeton's Woodrow Wilson School of Public and International Affairs, and her J.D. from Yale Law School.
Burr has published twenty books, including "A Short & Happy Guide to Financial Well-Being" (West Academic, 2014), and numerous scholarly articles in journals in the United States, Spain, Japan, and the United Kingdom.
Her audio books, "Sum & Substance on Entertainment Law" and "Sum & Substance on International Law", are part of Thomson West's "Outstanding Professor" series, which purportedly "captures America's best law professors on compact disc."
An internationally renowned lecturer, Burr has spoken to the Albuquerque Press Women, New Mexico Press Women, and National Federation of Press Women, as well as at universities in Barbados, Canada, Chile, France, Greece, Japan, Mexico, Spain, South Africa, and throughout the United States.